dir Jean-Pierre Jeunet
scr Jean-Pierre Jeunet, Guillaume Laurant
prd Jean-Pierre Jeunet, Frederic Brillion, Gilles Legrand
with Kyle Catlett, Helena Bonham Carter, Callum Keith Rennie, Judy Davis, Niamh Wilson, Jakob Davies, Julian Richings, Dominique Pinon, Dawn Ford, Rick Mercer, Richard Jutras, Lisa Bronwyn Moore
release UK 13.Jun.14
13/Canada Gaumont 1h45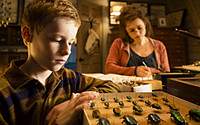 Personal obsessions: Catlett and Bonham Carter


R E V I E W B Y R I C H C L I N E

Jeunet returns to the warm, witty fable-like stylings of Amelie for this American odyssey about an unusually smart kid. It's beautifully shot with attention to detail that resonates on a very personal level. And even if it feels a bit too polished, there's a continual undercurrent of startlingly honest emotion.

TS (Catlett) and his twin Layton (Davies) are polar extremes. While TS explores the rules of the natural world, Layton runs riot on the family's sprawling Montana ranch, more attuned to their cowboy dad (Rennie) than their insect-obsessed mother (Bonham Carter). And teen sister Gracie (Wilson) is even more out of place. Then when TS invents a perpetual-motion generator, a Smithsonian Institute director (Davis) invites him to Washington to accept a prestigious award, unaware that TS is only 10 years old. So TS sneaks out of the house and hitches a ride across the country.

Yes, much of this story is frankly implausible, so Jeunet and his cowriter Laurant (adapting Reif Larsen's novel) ground the film in the characters' emotional reactions. The disparate members of this offbeat family are held together by a strong bond that TS can't define. And the actors inhabit the characters as seen through his eyes: larger-than-life, comforting and utterly baffling. Catlett holds the film together as the bright-eyed, articulate kid who isn't nearly as unflappable as he thinks he should be.

Amid this tall-tale sensibility, there are surprising moments of gritty honesty. Davis' scene-stealing turn as the over-excited museum executive is both funny and scary, while Bonham Carter nicely underscores her scenes with probing glances. Jeunet also inventively uses 3D to reveal the mechanical gyrations of TS's intelligence, with a country-twang score by Denis Sanacore, astoundingly detailed production design by Aline Bonetto and cinematography by Thomas Hardmeier that captures the vast spaces of the West and the tiniest details in a room with equal clarity.

By comparison, the film's themes are a bit uneven. The script never quite gets to the root of any of the characters, and while some ambiguity is nice it also leaves these people feeling vaguely cartoonish. Thankfully, the film's generous charm more than makes up for that, especially engaging anyone who has ever felt like an outsider in their own family. Which is pretty much everyone.
| | | |
| --- | --- | --- |
| | themes, language, brief violence | 18.May.14 |