dir Scott Waugh
scr George Gatins
prd John Gatins, Patrick O'Brien, Mark Sourian
with Aaron Paul, Dominic Cooper, Imogen Poots, Michael Keaton, Kid Cudi, Rami Malek, Ramon Rodriguez, Harrison Gilbertson, Dakota Johnson, Stevie Ray Dallimore, Carmela Zumbado, Nick Chinlund
release UK 12.Mar.14, US 14.Mar.14
14/US DreamWorks 2h10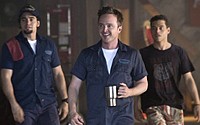 The pit crew: Rodriguez, Paul and Malek



R E V I E W B Y R I C H C L I N E

Muscly and loud, this film will appeal to anyone who likes their movies stupid and action-packed, but it's also strangely joyless. It may just about overcome the limp screenplay with strikingly adept stuntwork, but without a hint of self-awareness, there's virtually no fun to be had while the feeble plot plays out.

Toby (Paul) is a talented driver who runs a loss-making garage in rural New York while he watches long-time rival Dino (Cooper) get rich on the racing circuit. To make matters worse, Dino is dating Toby's ex (Johnson) and hires Toby to fix up an insanely valuable Mustang. Then things take a dark turn when Dino betrays Toby and leaves him to languish in prison for two years. On his release, Toby vows revenge and teams up with racing expert Julia (Poots) to get into an underground winner-take-all race organised by renegade DJ Monatch (Keaton).

The plot is by-the-books, without a single surprise. The more we try to work out the idiotic twists (the finale is particularly boneheaded), the less it hangs together. People continually do uncharacteristic things, while the script circles around itself, leaving little for us to engage with on any meaningful level. But of course that's the intention: this is a movie about fast cars, not people.

Fortunately, director Waugh takes an earthy approach to the action, eschewing digital trickery for expert stunt driving, real crashes and set-pieces that are spectacularly jaw-dropping even if they make little sense. This also lets the cast members add some grit to their performances. Paul is especially watchable, even if he never manages to develop any real chemistry with either Poots or Johnson. Cooper is also quite good even if his character has only one dimension. Cudi's on hand for basic comic relief.

But this is the kind of blindingly stupid movie that would benefit more from some sharp wit. Like the first Fast and Furious episode, this is a gritty romp with manly men, tough girls and growly cars zooming dangerously around real streets. But with their furrowed brows, no one looks like they're enjoying all of this speed. They just need it, like an addict needs a hit. And by the end we think they'd be better off going through rehab.
| | | |
| --- | --- | --- |
| | themes, language, violence | 28.Jan.14 |