dir Christian Ditter
scr Juliette Towhidi
prd Simon Brooks, Robert Kulzer
with Lily Collins, Sam Claflin, Christian Cooke, Jaime Winstone, Suki Waterhouse, Tamsin Egerton, Jamie Beamish, Lorcan Cranich, Ger Ryan, Lily Laight, Matthew Dillon, Sadhbh Malin
release UK 22.Oct.14
14/UK Constantin 1h43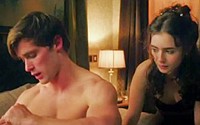 Romantic complications: Cooke and Collins



R E V I E W B Y R I C H C L I N E

Slick and well-made, with a solid cast, this unusually structured romantic comedy holds the interest even when the plot drifts off the rails. The main problem is an uneven tone that feels repetitive and sometimes desperate as it stretches for corny slapstick or simplistic teariness when the characters deserve something more challenging.

While growing up together in England, Rosie (Collins) and her best pal Alex (Claflin) have both subverted their romantic inklings. At 18, a drunken kiss drives them into the arms of other people: Alex asks supermodel-wannabe Bethany (Waterhouse) to the school dance, while Rosie hooks up with hunk Greg (Cooke). A subsequent pregnancy derails plans to go to university together in Boston, and over the next 12 years their lives take parallel paths of love, loneliness and so on. But even as they find new partners, they can't get each other out of their minds.

The film's bouncy style makes it immediately clear where this is headed, so any interest comes in seeing how these people react to what life throws at them. Friends, lovers and children are supportive or distracting, which means that the film is packed with lively characters who provide the needed comedy and emotion. Winstone is a welcome presence as Rosie's pal, while Cooke, Waterhouse and Egerton (as another of Alex's girlfriends) are enjoyable in more stereotypical roles as people who get in the way of the central romance.

At the centre, Collins and Claflin find depth amid the gyrations of the plot, which begins to feel like it's trapped in an endless spiral. Not much of what happens is realistic, but Collins and Claflin manage to keep Rosie and Alex relatively grounded and sympathetic. There's a sense that one honest conversation between these two life-long pals would solve everything, but the screenwriters (adapting Cecilia Ahern's novel Where Rainbows End) prefer to drag everything out until the very end.

This nagging inevitability makes it impossible to properly engage, although rom-com fans won't mind too much. As with most of these sudsy movies, this one is aimed fairly clearly at a teenage female audience, and it could be argued that it presents a far too (ahem) rosy picture of teen pregnancy. But then, these films are all about generating a few laughs and then some sighs while never troubling the audience too much. And that's exactly what you get here.
| | | |
| --- | --- | --- |
| | themes, language, sexuality | 10.Sep.14 |