dir Ridley Scott
scr Adam Cooper, Bill Collage, Jeffrey Caine, Steven Zaillian
prd Ridley Scott, Peter Chernin, Mark Huffam, Michael Schaefer, Jenno Topping
with Christian Bale, Joel Edgerton, John Turturro, Aaron Paul, Ben Mendelsohn, Ben Kingsley, Maria Valverde, Isaac Andrews, Sigourney Weaver, Tara Fitzgerald, Hiam Abbass, Ewen Bremner
release US 12.Dec.14, UK 26.Dec.14
14/UK Fox 2h30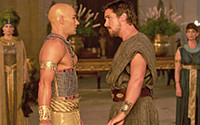 Mamas' boys: Weaver, Edgerton, Bale and Abbass



R E V I E W B Y R I C H C L I N E

Although this biblical epic has some thunderously impressive moments and a nice touch of cynical revisionism, it never does anything that Cecil B DeMille's iconic The Ten Commandments didn't do better in 1956. Digital effects aside, of course, this film is a far flashier and less emotionally resonant take on the story, boosted by offbeat performances.

In 1300 BC, the Israelites have been enslaved in Egypt for 400 years when prophecies start swirling around Moses (Bale), adopted son of Pharaoh Seti (Turturro) and raised alongside future Pharaoh Ramses (Edgerton). When his true Hebrew heritage is revealed, he is exiled to the desert, where he marries a shepherd's sexy daughter Sefora (Valverde) and has a run-in with the Jewish God (in the form of Andrews), who challenges him to liberate his people. After Moses tries to spark a rebellion, God intervenes with seven devastating plagues that push Ramses to the breaking point.

The script cleverly reinterprets the plagues and miracles in ways that almost explain them logically, although the story still requires a massive leap of faith. Depicting God as a young boy is a bold idea that works nicely with how Moses resists struggles to remain a realist even as things become increasingly difficult to explain away. Bale plays knowingly with Moses' inner confusion and deep-seated desire to do the right thing, which contrasts intriguingly with the way Edgerton plays the' more stubborn, privileged Ramses.

Of the side characters, Mendelsohn steals the film as the snivelling viceroy Hegep. Kingsley and Paul do what they can as Moses' father-son cohorts Nun and Joshua. And the women only get brief moments to make a mild impact before being sidelined again. Yes, Scott is far more interested in depicting the masculinity of this society and its grand-scale construction projects. So the effects work is seriously impressive, augmented by Alberto Iglesias' anthemic score.

As it climaxes with the massive Red Sea crossing set-piece, it's impossible not to wonder why this movie was made. Essentially it's a showcase for the talents of special effects houses, with the astonishing visual flourishes held together by paper-thin emotions and religiosity. Viewers familiar with the biblical story will enjoy the way events are depicted as a challenge between followers of true and false religions, although this may seem a bit silly to everyone else. But as spectacle cinema it's pretty hard to beat. Especially when those locust swarms attack you in 3D.
| | | |
| --- | --- | --- |
| | themes, violence | 11.Dec..14 |