dir Will Gluck
scr Will Gluck, Aline Brosh McKenna
prd James Lassiter, Will Gluck, Jada Pinkett Smith, Will Smith, Caleeb Pinkett, Shawn "Jay Z" Carter, Laurence "Jay" Brown, Tyran "Ty Ty" Smith
with Jamie Foxx, Quvenzhane Wallis, Rose Byrne, Cameron Diaz, Bobby Cannavale, Adewale Akinnuoye-Agbaje, David Zayas, Mike Birbiglia, Stephanie Kurtzuba, Dorian Missick, Tracie Thoms, Patricia Clarkson
release US 19.Dec.14, UK 20.Dec.14
14/US Sony 1h58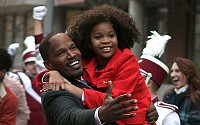 The sun'll come out: Foxx and Wallis



R E V I E W B Y R I C H C L I N E

While the original musical and 1982 film aren't exactly cool, they at least were packed with catchy, charming songs. For this remake, the music has been remixed into bland pop anonymity by filmmaker Will Gluck and pop singer Sia. And clumsy direction and editing leaves the movie lurching from one ill-conceived scene to the next, which flattens every nice moment between the actors.

Annie (Wallis) is a cheeky orphan living in a Harlem foster home with the greedy Miss Hannigan (Diaz). Unusually smart, Annie dreams of escaping this hard-knock life and finding her parents. Then she meets mobile phone magnate Will Stacks (Foxx), a bachelor assisted by Grace and Guy (Byrne and Cannavale) and driver Nash (Akinnuoye-Agbaje). Seeing a photo op to boost his poll numbers in the mayoral race, Guy gets Will to take Annie in temporarily, and she doesn't mind living the high life at all. She also begins to soften Will's workaholic heart.

There's never a doubt what will happen, yet Gluck continually tries to inject random suspense into an otherwise sweet story, distracting from the character connections. The interplay between Will and Annie is played beautifully by Foxx and Wallis, who seem to heave a sigh of resignation before each corny slapstick set-piece or limp musical number. Frankly, lingering riffs from the original songs are all that make the new score bearable.

There are amusing moments here and there, including a witty teen-franchise pastiche starring Mila Kunis, Ashton Kutcher and Rihanna. But Gluck never gets the tone right, flailing through scenes in a desperate attempt to generate comedy or slick pop musical moments. None of this works. Still, even though everyone is shallow and simplistic, the interpersonal moments have a strong kick, remnants of the original musical's plot about a man and a 10-year-old girl who make an unexpected connection.

Amid the unevenness, Foxx, Wallis and especially Byrne generate both comedy and emotion. Although Diaz is sent way over the top as the trashy, skanky Hannigan. Little girls in the audience will probably love the sassy tone and wish-fulfilment romp. But even they will roll their eyes when social media saves the day in a corny attempt to make the big finale feel hip. And even for them, those 1970s songs, in their original arrangements, will resonate more than this does.
| | | |
| --- | --- | --- |
| | some themes | 16.Dec.14 |