dir Miguel Arteta
scr Rob Lieber
prd Lisa Henson, Daniel S Levine, Shawn Levy
with Ed Oxenbould, Steve Carell, Jennifer Garner, Dylan Minnette, Kerris Dorsey, Bella Thorne, Sidney Fullmer, Megan Mullally, Donald Glover, Jennifer Coolidge, Burn Gorman, Dick Van Dyke
release US/UK 10.Oct.14
14/US Disney 1h21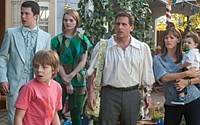 Nice pirate blouse: Minnette, Oxenbould, Dorsey, Carell and Garner



R E V I E W B Y R I C H C L I N E

Breezy and silly, this family comedy will keep kids engaged, while for grown-ups the smart gags are a bit few and far between. But at least they're there. And there's enough knowing humour to make this rambunctious romp relatively entertaining. If wacky family antics and outbreaks of sappy sentimentality are a problem, steer clear.

On his 12th birthday, Alexander (Oxenbould) makes a wish that everyone else would understand how it feels to have a seriously awful day. And sure enough, everything that can go wrong does, and then some, for his family: his dad Ben (Carell) has to take the baby with him to a job interview; his mother Kelly (Garner) faces a workplace nightmare; his teen brother Anthony (Minnette) has a prom-day crisis with his diva girlfriend (Thorne); and his sister Emily (Dorsey) gets ill on the opening night of her stage debut.

This is one of those movies in which everything goes wrong until the screenwriters decide to have mercy on the characters and slowly restore balance to their otherwise deliriously happy lives. There isn't a single moment that's remotely believable, but that doesn't make it unwatchable. Carell and Garner make the most of their characters, injecting some startlingly sharp gags along the way, while amusing cameos for such comedy experts as Mullally, Glover and Coolidge add some oomph.

At the centre of the chaos, Oxenbould is goofy enough to catch the audience's sympathy, although he's so dorky that it's impossible to believe that all of his social problems could be solved by hosting an amazing birthday party. Dorsey and especially Minnette offer more resonance as Alexander's older siblings, facing slightly more grounded crises even if they're played for slapstick silliness rather than anything witty or meaningful.

But then, while the film merely plays around with big issues like self-esteem, bullying and job security. Instead, this is a nutty comedy that skims the surface in search of a cheap laugh. Thankfully, these are frequent, and neither the actors nor the filmmakers take any of this seriously. They all know they're making a light comedy, so they don't really bother to put much weight behind the half-hearted message about believing in yourself and being loyal to those who really love you.
| | | |
| --- | --- | --- |
| | themes, some vulgarity | 28.Sep.14 |


Jon, North Wales:

A really enjoyable family "sit down to watch" film, quite a few laughs and if they do a sequel would recommend a look of the same standard. Would have given it myself 3.5 or 4 stars purely on the basis of its abilty to entertain the family as a whole, no mean achievement in the current diverse and mainly higher grade of certificate choices, which means a sometimes paltry choice for those who care about the certificate rating. Acting of a good standard from Steve Carell and Ed Oxenbould in particular, although the whole cast were doing their job to the tee. Great fun! (05.Aug.16)