dir Rawson Marshall Thurber
scr Bob Fisher, Steve Faber, Sean Anders, John Morris
prd Chris Bender, Vincent Newman, Tucker Tooley, Happy Walters
with Jennifer Aniston, Jason Sudeikis, Will Poulter, Emma Roberts, Ed Helms, Nick Offerman, Kathryn Hahn, Molly Quinn, Tomer Sisley, Matthew Willig, Mark L Young, Ken Marino
release US 7.Aug.13, UK 23.Aug.13
13/US Warner 1h50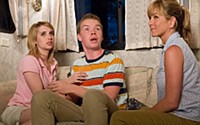 Kissing lessons: Roberts, Poulter and Aniston



R E V I E W B Y R I C H C L I N E
Amusing but never as raucous as it wants to be, this comedy feels hamstrung by Hollywood stars determined to keep their dignity intact. So even if Aniston and Roberts play around with their images, they never truly dive into the mayhem. As a result, the film is stolen by acclaimed young British actor Poulter, who aces every humiliating moment.

After small-time Denver pot dealer David (Sudeikis) has his stash stolen, his supplier Brad (Helms) agrees to cancel the debt if he smuggles a "smidge" of weed over the Mexican border in a motorhome. As a disguise, David enlists his neighbours to play his family: desperate stripper Rose (Aniston), homeless tearaway Casey (Roberts) and nerdy loner Kenny (Poulter). But the shipment is several tonnes of primo weed, and as they head home they're chased by angry drug goons (Sisley and Willig). They also meet the Fitzgeralds (Offerman and Hahn), who are a bit too friendly.

Yes, it's Hangover Part III action-wackiness crossed with Vacation family goofiness as "the Millers" navigate a series of set-pieces so ridiculous that we can't help but laugh. But only Poulter suffers major comical indignities, including an awkward romance with the Fitzgeralds' daughter (Quinn), kissing practice with his "mom" and "sis", and a ghastly spider bite. Kenny is also the only character who has a proper arc, so Poulter leaves the A-listers standing on the edge of each scene looking for something to do, as long as it doesn't make them look silly.

At least Offerman and Hahn gleefully play with their characters' timid sexuality. By contrast, Aniston's big moment is a scorching, over-the-top striptease to distract the thugs. But she looks so amazing that it actually boosts her already over-glamorised image. Roberts' only subplot is a silly hook-up with a moronic skater (Young). And Sudeikis rides out the adventure relatively unruffled.

Thurber keeps the pace snappy while giving the cast space to play around (the closing outtake reel is hilarious). We never doubt where it's headed, and we're certainly not surprised when the sentimentality surges to remind everyone that family is important, really. By playing it so safely, the filmmakers have made a movie that's enjoyable fun. But it's never the guilty pleasure it should have been.
| | | |
| --- | --- | --- |
| | themes, language, drugs | 21.Aug.13 |