dir Ron Howard
scr Peter Morgan
prd Andrew Eaton, Eric Fellner, Brian Grazer, Ron Howard, Brian Oliver
with Chris Hemsworth, Daniel Bruhl, Olivia Wilde, Alexandra Maria Lara, Christian McKay, Stephen Mangan, Pierfrancesco Favino, Natalie Dormer, Alistair Petrie, Jay Simpson, Jamie Sives, Patrick Baladi
release UK 13.Sep.13, US 20.Sep.13
13/UK Working Title 2h03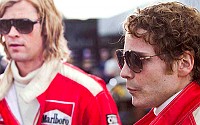 Contenders ready: Hemsworth and Bruhl



R E V I E W B Y R I C H C L I N E
Howard goes 1970s-style gritty with this true drama about two Formula One champions jostling between rivalry and respect. It's nicely played by an eclectic cast and directed like a European drama rather than a big American epic. There are also lots of exhilarating race sequences, plus a climactic blast of sentimentality.

In the early 1970s, a rivalry begins to brew between British womaniser James Hunt (Hemsworth) and Austrian technical genius Niki Lauda (Bruhl). With respect for each others' style, competition drives them to higher achievements as they climb their way up the sport, meet their wives (Wilde and Lara) and work with various teammates. It all boils over onto the circuit during the 1976 F1 season, when world champion Lauda was leading the pack before a horrific, near-fatal accident in the German Grand Prix.

Essentially two parallel biopics, the film gets into the head of both drivers using voiceover narration. Although Bruhl's Lauda is by far the more interesting character. A tight bundle of tenacious pragmatism, Lauda's approach is eerily clinical, so Bruhl delves beneath the surface to reveal his submerged passion and emotion. This is most notable in his virtually wordless relationship with his wife Marlene, played with remarkable subtlety by Lara.

By contrast, Hemsworth plays Hunt as a good-time boy revelling in his rock-star status, indulging in a raucous stream of women and drugs. Hensworth finds some subtext in the way Hunt admires Lauda's focus, but the performance is big and loose (his British accent is particularly loose), and we fully understand why his supermodel wife Suzy (a solid Wilde) ran off with Richard Burton.

Aside from one final wrap-up scene, Howard restrains his usual urge to over-explain everything, letting the story unfold with pacey energy and whizzy race set-pieces. Anthony Dod Mantle's photography is gorgeous, bringing a grainy sheen to the film that beautifully recreates the period. And the editing (by Dan Hanley and Mike Hill) is particularly kinetic, zipping back and forth between the sharply played personal scenes and the action on the track. But in the end it's the emotional undercurrents that get under the skin, as well as the resonant exploration of how success looks different for each of us.
| | | |
| --- | --- | --- |
| | themes, language, sexuality, violence | 15.Jul.13 |