dir Robert Schwentke
scr Phil Hay, Matt Manfredi
prd Michael Fottrell, Neal H Moritz, Mike Richardson
with Ryan Reynolds, Jeff Bridges, Kevin Bacon, Mary-Louise Parker, Stephanie Szostak, Mike O'Malley, James Hong, Marisa Miller, Robert Knepper, Devin Ratray, John Burke, Ben Sloane
release US 19.Jul.13, UK 20.Sep.13
13/US Universal 1h36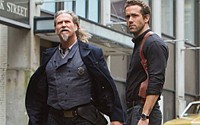 Ghostbusters: Bridges and Reynolds


R E V I E W B Y R I C H C L I N E

This film is a clear attempt here to cross Ghost with Men in Black, a madcap comedy about afterlife cops tracking down rogue spirit-monsters. But the script is never actually funny, and the filmmakers' desperate attempt to crank up the mayhem with digital trickery is merely exhausting.

After Boston policeman Nick (Reynolds) opts out of a dirty deal, his partner Bobby (Bacon) guns him down during a violent raid. When Nick arrives in the afterlife, he's confronted by a manager (Parker) who strong-arms him into taking a job in the Rest In Peace Department, capturing spirits who have escaped judgement. Assigned to work with swaggering gunslinger Roy (Bridges), Nick stumbles into a case connected to his own death. And he refuses to just stand by and watch his widow Julia (Szostak) get caught up in Bobby's insanely evil plan.

Director Schwentke tries to liven things up with whizzy camerawork, but everything is undone by substandard digital effects work, which render the ghostly characters as rubbery cartoons that are neither inventive nor amusing. That said, the freeze-frame sequence in which Nick is killed is spectacularly imagined, at least until it turns goofy. But then every scene is packed with unnecessary visual wackiness that makes the whole movie feel desperate. Finding something to laugh at is virtually impossible.

Reynolds tries to deliver a straight-faced comical performance, but mainly just looks worried. At least he's likeable enough to hold our attention. Bridges goes wildly over the top with a strangely one-note turn as the cantankerous old-style lawman. And the supporting cast members get little to do: Bacon is merely shifty and evil, while O'Malley is wasted as an informant, but Parker at least adds some sardonic sass.

As the chaos escalates, the ingrown plot never gains traction, and pretty much every element in the lazy script has been lifted from other movies. And Schwentke loses control of the visuals as well, indulging in overwrought animated silliness at every turn, which undermines any potential for a guilty-pleasure romp. There's the germ of a decent idea here, but without even a hint of originality or wit, it never comes to life, as it were.
| | | |
| --- | --- | --- |
| | themes, language, violence | 6.Sep.13 |