scr Steve Baker, Will Carlough, Patrik Forsberg, Matthew Alec Portenoy, Greg Pritikin, Rocky Russo, Jeremy Sosenko, Elizabeth Wright Shapiro
prd Peter Farrelly, Ryan Kavanaugh, John Penotti, Charles B Wessler
with Mark L Young, Adam Cagley, Devin Eash, Fisher Stevens
---
The Catch
dir Peter Farrelly
with Kate Winslet, Hugh Jackman

---
Homeschooled
dir Will Graham
with Naomi Watts, Liev Schreiber, Jeremy Allen White
---
The Proposition
dir Steve Carr
with Chris Pratt, Anna Faris
---
Veronica
dir Griffin Dunne
with Kieran Culkin, Emma Stone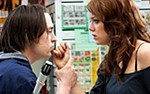 ---
iBabe
dir Steven Brill
with Richard Gere, Kate Bosworth, Jack McBrayer, Aasif Mandvi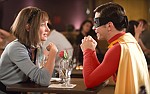 Super Hero Speed Dating
dir James Duffy
with Justin Long, Jason Sudeikis, Uma Thurman, Bobby Cannavale, Kristen Bell, John Hodgman, Leslie Bibb, Will Carlough
---
Machine Kids
dir Jonathan van Tulleken
---
Middleschool Date
dir Elizabeth Banks
with Chloe Grace Moretz, Jimmy Bennett, Christopher Mintz-Plasse, Patrick Warburton
---
Tampax
dir Patrik Forsberg
---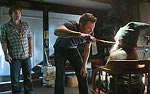 Happy Birthday
dir Brett Ratner
with Seann William Scott, Johnny Knoxville, Gerard Butler
---
Truth or Dare
dir Peter Farrelly
with Halle Berry, Stephen Merchant
---
Victory's Glory
dir Rusty Cundieff
with Terrence Howard, Aaron Jennings
---
Beezel
dir James Gunn
with Elizabeth Banks, Josh Duhamel
---
release US/UK 25.Jan.13
13/US Relativity 1h30
R E V I E W B Y R I C H C L I N E

Anthology films are always a mixed bag, but in this one every segment is resolutely unfunny. Premises are clever, and the Oscar-caliber cast play it hilariously straight-faced, but there isn't one sequence that follows through to a decent punchline.

When chuckleheads teen Calvin and JJ (Young and Cagley) decide to prank Calvin's geeky little brother Baxter (Eash), they lamely come up with Movie 43 as a title for the most-banned movie on the internet. As Baxter searches for it, he finds various clips that take a childishly rude approach to male-female issues. A woman (Winslet) tries to get through a blind date with a man (Jackman) who has testicles on his neck. A guy (Pratt) tries to give his girlfriend (Faris) her wish to be pooped on. Robin (Long) faces other superheroes on an embarrassing speed-dating night. An idiot (Knoxville) kidnaps a leprechaun (Butler) for his pal's (Scott) birthday, but getting the pot of gold isn't easy. At another blind date, a couple (Berry and Merchant) gets into an increasingly high-stakes game of Truth or Dare. And a woman (Banks) struggles to cope with her boyfriend's (Duhamel) jealous cartoon cat.

Virtually every segment makes fun of male insecurity about sex in the most simplistic way possible. Even though the ideas behind each short are packed with possibilities, the filmmakers consistently go for the cheapest, ugliest and therefore unfunniest gags. And only a few segments feel properly formed. The clip in which Watts and Schreiber homeschool their son (White) to learn about life's pain strikes an amusingly anachronistic tone and almost has a good double-whammy ending. The dialog between Culkin and Stone as bitter exes is brilliantly deranged. There's squandered potential in the period-style short about a 1959 basketball coach (Howard) trying to convince his black players that they won't struggle to beat their white opponents. And Banks' segment, in which a teen (Bennett) is horrified when his friend (Moretz) gets her first period at least makes us laugh at how men panic about menstruation.

This segment also links to one of three advert spoofs. Others include an eerily dark satire about child labour and a ludicrously cheery ad for the iBabe, a music player shaped like a full-size naked woman. This one leads into a boardroom where the CEO (Gere) fails to grasp why this is a bad idea. Which kind of makes you wonder if there was a similar scene in the room where they came up with this movie. You can kind of understand actors coming onboard since the ideas are relatively witty. But you'd think the producers would have at least insisted that the segments were funny as well as nasty and cruel.
| | | |
| --- | --- | --- |
| | themes, language, nudity, violence, innuendo | 25.Jan.13 |