dir-scr Scott Walker
prd Curtis Jackson, Randall Emmett, Jane Fleming, George Furla, Mark Ordesky, Jeff Rice
with Nicolas Cage, John Cusack, Vanessa Hudgens, Curtis "50 Cent" Jackson, Radha Mitchell, Jodi Lyn O'Keefe, Brad William Henke, Kevin Dunn, Ryan O'Nan, Dean Norris, Kurt Fuller, Matt Gerald
release UK 19.Jul.13, US 23.Aug.13
13/US 1h45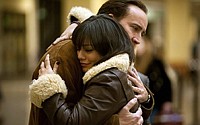 A special case: Hudgens and Cage



R E V I E W B Y R I C H C L I N E

It's always odd when a film based on a true story feels utterly implausible. And this screenplay sacrifices credibility as it strains to turn a real-life serial killer drama into a formulaic movie thriller. The pacing is quick, with muscular direction and solid acting, but the characters' actions never quite add up.

In 1983 Anchorage, Alaska, 17-year-old prostitute Cindy (Hudgens) is rescued by cops who don't really believe that she was kidnapped and raped, barely escaping with her life. It also doesn't help that she identifies Robert (Cusack) as her tormenter, and he's a family man with a solid alibi. Then State Trooper Jack (Cage) discovers similarities in Cindy's case with a series of other disappearances, and he starts investigating, seeking the proof to charge Robert with the crime.

It seems strange that the victim's account would count so little, especially when accompanied by so much physical evidence, but Walker's screenplay brushes past this without a proper explanation. And it continues to do this, leaving us with nagging questions about everything that happens. Walker also never fills in salient details of various sideplots, including Jack's strained marriage to Allie (Mitchell) or the way Cindy is caught in a war between two pimps (Jackson and Henke).

In fact, none of the characters is explored beyond simple cliches like a bad childhood or the haunting death of a family member. Hudgens works to make Cindy a lost teen, while the police officers blur into an amorphous mob, some more understanding than others. Other characters (most notably Robert and Allie) have a strikingly different personality in every scene. It's so uneven, that we are only gripped because we know that it actually happened.

There's also the problem that Walker wallows in leery strip-club scenes while moralising about drug use. But at least he makes great use of the spectacular Alaskan locations. And the film has a driving narrative, robust camerawork and pacey editing. Even the score is powerful, pulsing with urgency as one half-developed scene after another fails to connect the dots. So we feel like we're in the hands of an expert even though he's not quite telling the whole story.
| | | |
| --- | --- | --- |
| | themes, language, violence, drugs, nudity | 13.Jun.13 |