dir Benjamin Epps
scr Matt K Turner
prd Chris Aronoff, Adam Saunders
with Olesya Rulin, Kristin Chenoweth, Matthew Modine, Eddie Hassell, Joey King, Robbie Tucker, Shirley Jones, Chloe Bridges, Chase Maser, Adam Saunders, Lisa Lauren Smith, Peter Gail
release US 29.Mar.13
13/US 1h45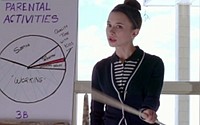 Back to school: Rulin


R E V I E W B Y R I C H C L I N E

This black comedy is too soft-hearted to be a classic, even though it's packed with genuinely hilarious moments, snappy characters and even a decent message. But there isn't much bite to the script, and the plot only has a few surprises up its sleeve.

At 16, Emily (Rulin) is a jump-rope champion, annoyed that her family missed her record-breaking triumph at regionals. So she decides to make sure her parents don't miss the state competition, while also teaching them a lesson. The day before the finals, she drugs her workaholic mum (Chenoweth) and stoner-artist dad (Modine) and stages an extreme intervention with the help of her three siblings: faux-gay teen Jackson (Hassell), movie-obsessed Lucy (King) and eerily smart Mickey (Tucker). She also gets some assistance from her earth-grandmother (Jones) and a nosey neighbour (Bridges).

The script notes that Emily is committing one felony after another, which kind of undermines the dark humour but also adds tension as things get increasingly outrageous. Chenoweth and Modine are terrific as the oblivious parents who find it difficult to see what the problem is. They play the roles so that we can almost imagine them much more similar as a younger couple who then pursued divergent individual paths. And of course their timing is impeccable, bridging comedy and sentimentality effortlessly.

Meanwhile, Rulin gives the overachieving Emily an amusing tenaciousness reminiscent of Election's iconic Tracy Flick, although without the ruthlessness. In Chenoweth's more heartless outbursts, we can see where Emily gets it. And Hassell, King and Tucker have a lot of fun as her lively brother and sisters, digging just a bit beneath the surface. Together they create a seriously dysfunctional family that we don't mind spending 105 minutes with.

If there's no real cutting edge, at least the film keeps us laughing while also finding moments of dark emotion, holding the heartwarming scenes in check. Emily just wants her parents to be "normal", as if there were such a thing. The real challenge for her is to get her parents to remember who they used to be. But even more, everyone needs to rediscover the passion that drives them. So we may never doubt where the film is going, but it's wacky and engaging, and it kind of makes us think as well.
| | | |
| --- | --- | --- |
| | themes, language, some violence | 30.Mar.13 |