dir Stefan Ruzowitzky
scr Zach Dean
prd Shelly Clippard, Ben Cosgrove, Gary Levinsohn, Todd Wagner
with Eric Bana, Olivia Wilde, Charlie Hunnam, Kate Mara, Sissy Spacek, Kris Kristofferson, Treat Williams, Jocelyne Zucco, Allison Graham, Teale Bishopric, John Robinson, Tom Jackson
release US 7.Dec.13, UK 10.May.13
12/US StudioCanal 1h35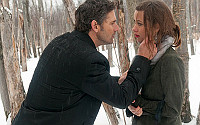 Too-close siblings: Bana and Wilde



R E V I E W B Y R I C H C L I N E

Messy relationships fill this suggestive thriller about three families that intersect in wintry northern Michigan. There are some sweet moments and a lot of fatal grisliness, plus a marvellously deranged Thanksgiving dinner. And director Ruzowitzky lets his cast make the most of the wildly swerving tone.

Addison (Bana) and his sister Liza (Wilde) are on the run from a casino heist when they become stranded in the snowy wilderness, fleeing separately for the Canadian border. They're pursued by the bullheaded local sheriff (Williams) and his belittled daughter, Deputy Hanna (Mara). Meanwhile, meathead Jay (Hunnam) gets out of prison and drives through the snow to see his loving mother (Spacek) and disapproving father (Kristofferson), who live nearby. He picks up Liza on the road.

The perfect-storm plot is fairly straightforward, as these people predictably close in on each other. But there are marvellously soapy wrinkles along the way. Addison and Liza have a creepy innuendo-packed sibling relationship. A former boxer, Jay has bad blood with his father over his dodgy past. Hanna wants to join the FBI and get away from her vile dad. And Jay's mom just wants everyone to get along for a change.

The roles are relatively simple. Hunnam and Wilde have decent chemistry, so even if we never believe in their romance their scenes are enjoyably sparky. And while Addison is utterly ruthless, Bana gives him a glimmer of a soul as he has a encounter with a little girl (Hansen), echoing both Frankenstein and The Night of the Hunter. By comparison, Mara has little to do as the conflicted goody-two-shoes deputy repeatedly and irrationally dismissed by her misogynistic dad.

Visually, the film is especially striking, shot in what looks like blizzard conditions with generous splashes of blood in the white snow. There's some strong tension (including a whizzy snowmobile chase), and some jagged interaction between the characters, but the emotional scenes don't generate any real heat. The relentlessly idiotic sexism of the entire police force actually makes us root for the outlaws. And the way Spacek keeps her cool in the face of a shotgun-wielding monster adds a wonderful layer of dark humour. Most of us have had worse Thanksgivings than this one.
| | | |
| --- | --- | --- |
| | themes, language, violence, sexuality | 29.Apr.13 |