dir Cameron Crowe
prd Julie Yorn
scr Aline Brosh McKenna, Cameron Crowe
with Matt Damon, Scarlett Johansson, Thomas Haden Church, Colin Ford, Maggie Elizabeth Jones, Elle Fanning, Angus Macfadyen, Patrick Fugit, John Michael Higgins, Carla Gallo, JB Smoove, Peter Riegert
release US 26.Nov.11, UK 16.Mar.12
11/US Fox 2h04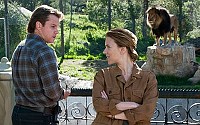 Lions, tigers and bears: Damon and Johansson



R E V I E W B Y R I C H C L I N E

There's a terrific story inside this well-made but bloated movie, as if director-cowriter Crowe simply couldn't figure out which elements he most cared about, so he included everything. It's engaging enough to keep us watching, but never finds any real focus.

After his wife dies, Benjamin (Damon) is struggling to keep his kids - 14-year-old Dylan (Ford) and 7-year-old Rosie(Jones) - happy, mainly because he has lost the daredevil storyteller within himself. So against the advice of his goofy-but-sensible brother (Church), Benjamin buys a run-down zoo and moves there with his children to get it up and running again. Zookeeper Kelly (Johansson) and her team (including Macfadyen and Fugit) don't think he'll stick it out. And indeed, it's more of a challenge than he ever imagined.

The narrative tries to work on a variety of layers, but each one is so predictable it's impossible to develop any interest in what might happen. Kelly is clearly interested in Benjamin, and her 13-year-old cousin (Fanning) is likewise attracted to Dylan, so we have two mini-romances bubbling along. There's a snooty inspector (the scene-stealing Higgins) who has a personal vendetta against this particular zoo. The lion's looking restless, the star tiger is dying and the bear is trying to escape. The weather doesn't even cooperate.

The problem is that, while all of this might be part of the true story the film's based on, it's assembled in the blandest way imaginable. There's no central thrust, as we just watch the characters and animals swirl around in a flurry of smiley cuteness. Even the killer animals don't seem to have real teeth. Although at least there's the odd moment of honesty along the way. And the actors are engaging, adorable or funny as required, but only Johansson has any bite.

In the end, Crowe tries to make the film about something altogether different, as he begins to wallow increasingly in a sentimentalised exploration of the grief Benjamin and his children are trying to adjust to. But since this is never explored with any real depth, the film begins to feel glib and overwrought, missing the point mainly because Crowe couldn't settle on just one point.
| | | |
| --- | --- | --- |
| | themes, language | 12.Mar.12 |