dir Adam Shankman
scr Justin Theroux, Chris D'Arienzo, Allan Loeb
prd Jennifer Gibgot, Garrett Grant, Carl Levin, Tobey Maguire, Scott Prisand, Adam Shankman, Matt Weaver
with Julianne Hough, Diego Boneta, Tom Cruise, Catherine Zeta-Jones, Alec Baldwin, Russell Brand, Malin Akerman, Mary J Blige, Paul Giamatti, Bryan Cranston, Will Forte, Ramon Valderrama
release US/UK 15.Jun.12
12/US Warner 2h03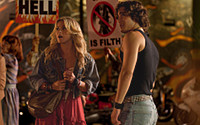 Face the music: Hough and Boneta



R E V I E W B Y R I C H C L I N E

This raucous trawl through 80s power ballads, rock anthems and gigantic hair is a lot of fun, partly because it throws so many big stars into against-type roles in which they get to sing and dance. But the plot couldn't be any thinner or it wouldn't exist at all.

Small-town girl Sherrie (Hough) takes the bus to 1987 Hollywood to become a rock star. There she meets Drew (Boneta), who has the same dream and works in the famed Bourbon Room on the Sunset Strip. He convinces the owner (Baldwin) to hire her as a barmaid just as diva-rocker Stacee Jaxx (Cruise) comes to play a major gig. Buzzing around him are a Rolling Stone journalist (Akerman) wanting an interview and a right-winger (Zeta-Jones) trying to protect the children from the evils of rock-n-roll.

Sherrie and Drew's central plot merges romantic-comedy cliches with every hackneyed star-wannabe movie ever made. In fact, the same narrative is actually more original in the climactic Journey anthem Don't Stop Believing, which has already been revived and beaten to death by the cast of Glee (this version is marginally better). Fortunately, the filmmakers have a lot of fun stirring big songs into the plot, constantly letting the audience know that yes, this is as ridiculous as it looks.

This sense of fun is infectious due to Shankman's energetic, colourful direction and his playful approach to the material. So the performances are surprisingly entertaining, leaving us wanting more of everyone. As the sleazy Jaxx, Cruise looks and sounds seriously impressive, while Zeta-Jones nearly bursts with righteous rage as she belts out her numbers. Baldwin and Brand prove to be an amusing duo even if their subplot is irrelevant.

In the stars' shadow, Hough and Boneta are talented yet bland leads, which leaves the film feeling vacuous. But we can still enjoy the songs, the stunt casting and some hysterically inspired choreography. And along the way, there are also several terrific mash-ups, some steamy innuendo and a scene-stealing baboon. Like Mamma Mia, it's a star-packed musical romp that keeps us singing along happily. But it's missing that staggering performance from Meryl to distract us from the lame plot.
| | | |
| --- | --- | --- |
| | themes, anguage, innuendo | 29.May.12 |