dir Alex Kurtzman
scr Alex Kurtzman, Roberto Orci, Jody Lambert
prd Bobby Cohen, Roberto Orci, Clayton Townsen
with Chris Pine, Elizabeth Banks, Michelle Pfeiffer, Michael Hall D'Addario, Olivia Wilde, Mark Duplass, Philip Baker Hall, Sara Mornell, Barbara Eve Harris, Gabriela Milla, David Burrus, Jon Favreau
release US 29.Jun.12, UK 9.Nov.12
12/US DreamWorks 1h54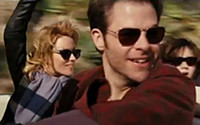 Fun in the sun: Banks. Pine and D'Addario


R E V I E W B Y R I C H C L I N E

These filmmakers clearly didn't trust the true story this film is based on, because they force it into a trite rom-com structure that belittles the serious themes it raises. Fortunately, a strong cast makes the most of the characters, and the emotional punch still gets us in the end.

Fast-talking New York salesman Sam (Pine) heads to Los Angeles to see his mother (Pfeiffer) when his dad dies. But his father leaves a bundle of cash for him to give to a mischevous 11-year-old, Josh (D'Addario), whose barmaid mum Frankie (Banks) turns out to be the sister Sam never knew he had. As he debates whether or not to keep the cash, he gets to know Josh and Frankie without revealing his own identity. But the Feds close in on Sam for bad business practices, while Frankie and Josh's situation gets increasingly tense.

No one here is able to properly communicate, so their lives are lonely even though they have people who reach out to them. Frankie has a friendly neighbour (Duplass) who wants a relationship, while Sam's girlfriend (Wilde) is tired of his games. But there are deep-seated connections underneath the awkwardness. Sam and his mum manage to have their moments, albeit tinged with sarcasm. Annoyingly, Sam's inability to tell the truth causes every misunderstanding the plot relies on.

Beautifully shot and edited, the film has a snappy pace as it focusses on damaged souls who are doing the best they can in difficult circumstances. This allows the likeable cast to find edges to their characters as they try to connect amid their imperfections. Pine finds terrific chemistry opposite the superb Banks and Pfeiffer, even if his character seems contrived by the script.

Meanwhile, Sam's budding friendship with Frankie unfurls like a rom-com, so we know trouble will come when the truth comes out. And the way the story has been wedged into a formulaic Hollywood structure diminishes any emotional power it might have. Undemanding viewers won't mind so much, while more discerning audiences will at least be able to enjoy the strong characters and some underlying issues of human connection. But there's so much potential that it feels like a missed opportunity.
| | | |
| --- | --- | --- |
| | themes, language, violence | 24.Oct.12 |