dir Andy Fickman
scr Lisa Addario, Joe Syracuse
prd Peter Chernin, Billy Crystal, Samantha Sprecher
with Billy Crystal, Bette Midler, Marisa Tomei, Tom Everett Scott, Bailee Madison, Joshua Rush, Kyle Harrison Breitkopf, Jennifer Crystal Foley, Rhoda Griffis, Gedde Watanabe, Tony Hawk, Steve Levy
release US 25.Dec.12, UK 26.Dec.12
12/US Walden 1h45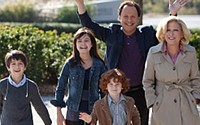 Too-happy family: Crystal and Midler with Rush, Madison and Beritkopf



R E V I E W B Y R I C H C L I N E

There's not much to this silly, sentimental comedy, but it goes down easy as a bit of undemanding, unoriginal nonsense. Crystal and Midler don't stretch themselves at all in their roles, but it's fun to have them back on screen even if we wish they'd push themselves.

Uptight mum Alice (Tomei) decides to go on a business trip with her inventor husband Phil (Scott), and reluctantly calls her parents Artie and Diane (Crystal and Midler) to watch their three lively children - burgeoning teen girl Harper (Madison), shy son Turner (Rush) and mop-headed mischief-maker Barker (Breitkopf). Tech-phobic Artie and peace-keeper Diane think this is a chance to become part of their grandchildren's lives, but struggle to keep up with the kids. And Alice badly underestimates their resourcefulness.

Life lessons are announced early on, so there are no surprises there. And the continual stream of wacky slapstick set pieces is unimaginative and predictable. Much of the humour centres on mildly rude gags that young children might find amusing, but it really only hints at something much funnier that the screenwriters might have come up with had they resisted the urge to turn this into Entertainment for the Whole Family.

That said, there are some nice moments along the way, mainly in Crystal's snappy delivery of usually obvious one-liners. Even if he seems to be turning into a cartoon version of himself, Crystal has impeccable timing, and bounces perfectly off his costars. Midler gives one of her softer, squidgier performances, basically just smiling a lot. While Tomei is pushed to the brink as the neurotic mother who is afraid to leave her children alone for a moment.

As expected, it all turns unnecessarily sentimental in the end, by which time we have nearly been lulled to sleep, so we're vulnerable to the manipulative warm-fuzzy interaction. None of the actors breaks a sweat, there's nothing to stimulate thought and Fickman's direction is functional at best. And yet, in the end it leaves us feeling happy and mildly entertained. And it makes us wonder why Crystal doesn't get better scripts than this.
| | | |
| --- | --- | --- |
| | mild rudeness | 28.Dec.12 |