dir Baltasar Kormakur
scr Aaron Guzikowski
prd Tim Bevan, Eric Fellner, Baltasar Kormakur, Stephen Levinson, Mark Wahlberg
with Mark Wahlberg, Ben Foster, Giovanni Ribisi, Kate Beckinsale, Lukas Haas, Caleb Landry Jones, Diego Luna, Kevin 'Lucky' Johnson, JK Simmons, Olafur Darri Olafsson, David O'Hara, William Lucking
release US 13.Jan.12, UK 16.Mar.12
12/US Universal 1h49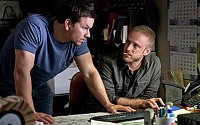 Smugglers of the Caribbean: Wahlberg and Foster


R E V I E W B Y R I C H C L I N E

There isn't a single moment in this film that feels authentic, as cast and crew charge hardheadedly through a ludicrous series of obstacles that would be comical if the film wasn't so insistent on grunting with explosive machismo every step of the way.

Chris (Wahlberg) is a notorious smuggler who has gone straight to have a quiet life with his wife Kate (Beckinsale) and their two young kids. But when Kate's brother (Jones) falls afoul of New Orleans thug Briggs (Ribisi), Chris and his pal Sebastian (Foster) have to plan "one last job" to get the family off the hook. This involves Chris and Andy travelling by ship to Panama to collect counterfeit bills from a crazy dealer (Luna), then furtively returning to America. But of course nothing goes to plan.

The script is so blunt that we feel battered within about 10 minutes, as the story lurches from one contrivance to another. And this continues right to the end, with such obstacles as the ship crashing into a dock, a money-drugs switcheroo, a character lapsing into substance abuse, a frantically crazed (and irrelevant) armoured car heist, and nosey customs officials. But Chris is such an expert that he makes sneaking, hiding, driving and even welding look easy.

Director Kormakur (who starred in the original Icelandic version, Reykjavik-Rotterdam) assembles this without ever resorting to subtlety. The characters are trite stereotypes that give actors like Foster and Ribisi plenty of scope to chomp mercilessly on the scenery. The dialog never attempts to obscure the cliches. The score consists only of "isn't this scary" electronic pulsing. And action scenes feature blinding violence that makes a rather frightening point.

Indeed, the film teaches us that, to survive the economic downturn, we need to turn to theft and fraud and be clever enough to deceive (or kill) the cops and/or baddies who are trying to stop us. At one point, virtually everyone in the movie says, "You better do this or I'll kill you." And none of them are exaggerating. But we're supposed to believe that since everyone is dirty except Chris (sort of), it's all good. Except that it's not.
| | | |
| --- | --- | --- |
| | themes, language, strong violence, drugs | 12.Mar.12 |