dir Todd Strauss-Schulson
prd Greg Shapiro
scr Jon Hurwitz, Hayden Schlossberg
with John Cho, Kal Penn, Tom Lennon, Amir Blumenfeld, Neil Patrick Harris, Danny Trejo, Paula Garces, Danneel Ackles, Elias Koteas, Eddie Kaye Thomas, David Krumholtz, Patton Oswalt
release US 4.Nov.11, UK 9.Dec.11
11/US New Line 1h30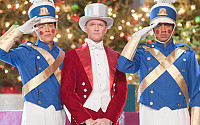 Christmas classic: Cho, Harris and Penn


R E V I E W B Y R I C H C L I N E

A warm, squishy centre makes this smutty comedy surprisingly endearing as it bounces from one random set piece to another, by way of a series of outrageous cameos. The sex, drugs and violence get a bit tiring, but the amusing writing and acting keep us laughing.

While stoner Kumar (Penn) is failing to cope with the chaos of his life, now-respectable banker Harold (Cho) is dreading Christmas with his wife's (Garces) extended family, including his terrifying father-in-law Perez (Trejo). When Kumar drops off a mis-delivered package at Harold's house, their first meeting in six years causes instant chaos. Now they have to team up to replace Perez's prized Christmas tree. This involves scary encounters with a Scarface-style mobster (Koteas), mean-acting tree sellers (RZA and Da'Vone McDonald) and the real Santa (Richard Riehle).

The filmmakers pack the screen with witty references to Christmas movies from Home Alone to A Christmas Story, while continually indulging in playful 3D gags. While the film feels like a sitcom that's desperate for laughs, the plot is a snappy mix of holiday movie traditions and deeply rude jokes. Surprisingly, the humour is just enough sharp enough to keep us chuckling. And even when things turn nasty, the film maintains its goofy charm, from the predictably deranged use of Bing Crosby's White Christmas to an outrageous claymation interlude.

The central point is the rekindling bromance between Harold and Kumar. Despite their obsession with girls, the movie merrily blurs their sexuality right down to Harris' returning presence as a riotous self-caricature. His big Christmas number is a show-stopper that's bound to become a subversive holiday favourite. Other cameos add texture along the way, but some running gags are badly strained, such as Harold's pal (Lennon) bringing his baby along for the sex- and drug-fuelled chaos.

Even though it's consistently amusing, the meandering story never quite gets going. Plot points feel random and the general goofiness kind of softens the insistent vulgarity. Yes, subversion goes both ways. So in the end, the film's less like Bad Santa than a happy but sometimes naughty holiday classic, as if Cheech & Chong had remade It's a Wonderful Life.
| | | |
| --- | --- | --- |
| | themes, language, drugs, sexuality, violence | 5.Dec.11 |