dir Brad Bird
scr Josh Appelbaum, Andre Nemec
prd JJ Abrams, Bryan Burk, Tom Cruise
with Tom Cruise, Jeremy Renner, Paula Patton, Simon Pegg, Michael Nyqvist, Lea Seydoux, Anil Kapoor, Miraj Grbic, Tom Wilkinson, Josh Holloway, Ving Rhames, Vladimir Mashkov
release US 16.Dec.11, UK 26.Dec.11
11/US Paramount 2h13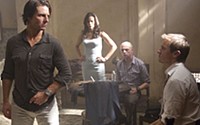 Going underground: Cruise, Patton, Pegg and Renner



---
See also:



R E V I E W B Y R I C H C L I N E

The M:I franchise once again goes rogue with its choice of directors, giving Bird his first live-action film. He takes an eye-popping approach to the genre, creating a guilty pleasure romp that balances corny plotting with muscled-up fun.

Ethan (Cruise) is broken out of a grim Russian prison by old colleague Dunn (Pegg) and new IMF agent Carter (Patton). But why was he in there to begin with? And why does his next mission result in a bombing of the Kremlin that's blamed on the IMF, which is now in Ghost Protocol mode: dissolved and vulnerable. To clear his name, Ethan, Dunn, Carter and analyst Brandt (Renner) head to Dubai and then Mumbai to stop megalomaniacal peacenik Hendricks (Nyqvist) from triggering a nuclear war.

In animation, Bird can put his cameras anywhere he wants, so he does exactly the same thing here, whirling around his characters as they indulge in outrageous scenarios from the Kremlin explosion to a gyrating finale in a 20-story parking garage, by way of a gratuitous climb up the glassy exterior of the world's tallest building as an even more gratuitous sandstorm approaches. The characters seem impervious to pain, gravity or emotion as they charge through each set-piece, hurling gleaming BMWs to their spectacular doom then walking (or perhaps briefly limping) away to continue the chase.

All four of these films have built on the TV series' action-fantasy style, outdoing even the Bond movies to take us on a thrilling ride. And Cruise still fits the role: an omni-talented super-agent who always seems to have something going on besides his current world-saving mission. This time the subtext is provided by Renner, who's enjoyable as a guy with a dark connection to Ethan. By contrast, Patton is merely eye-candy while Pegg provides constant comical patter, although both do those jobs well.

The only thing missing is a sense of momentum. The film's visual styleis consistently electrifying (especially action scenes shot in the Imax format), the banter is frequently hilarious and the continual stream of amazing gadgets is amusing. But the film also has a kind of by-the-books feel, so perhaps the next surprise-choice director will blast this franchise in a new direction.
| | | |
| --- | --- | --- |
| | themes, language, violence | 9.Dec.11 |