dir Jon M Chu
prd Scooter Braun, Dan Cutforth, Jane Lipsitz, Usher, Antonio "L.A." Reid
with Justin Bieber, Usher, Scooter Braun, Pattie Mallette, Diane Dale, Bruce Dale, Ryan Good, Mama Jan Smith, L.A. Reid, Snoop Dogg, Kenny Hamilton, Jeremy Bieber
release US 11.Feb.11, UK 18.Feb.11
11/US Paramount 1h45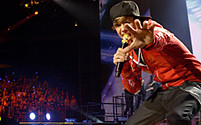 Comin' atcha: Bieber


R E V I E W B Y R I C H C L I N E

Clearly designed with his 12-year-old female fanbase in mind, this backstage myth-making doc wants to show that Justin Bieber is "just a regular kid who had a dream that came true". As if.

Born in small-town Canada, Justin started showing musical talent very early and was encouraged by his young single mum Pattie and grandparents Diane and Bruce. As the 12-year-old Justin sang and played guitar and drums in local venues, Atlanta music producer Scooter Braun spotted a YouTube video. Studying with mentor Usher was followed by years of flogging Justin's live talents to radio deejays and internet fans. And as his following grew, a record label finally took notice.

The film structured as a countdown to Bieber's first Madison Square Garden gig, as he travels from venue to venue performing with Miley Cyrus, Jaden Smith, Sean Kingston, Ludacris, Boys II Men and of course Usher. Along the way there's drama as his dad Jeremy comes to one concert, and later he almost loses his voice. And we also get to watch behind-the-scenes preparations, horseplay and rather a lot of praying. His loyal team talks to camera glowingly about him, smiling broadly as they ride the gravy train.

And the movie is surprisingly entertaining. It acknowledges the absurdity of the gigantic machine surrounding this 16-year-old sensation, with a playful montage centring on his obsessed-about hair. Most enjoyable are scenes of his hysterical, hilarious pre-teen fans; a collage of their YouTube homages to him is actually rather scary, in a stalkerish sort of way. Eerily, Bieber never speaks to camera himself and always seems "on", even in off-handed moments.

Director Chu keeps things moving briskly, even if the film is far too long. But the 3D is playfully deployed (Bieber remembers to milk it even amid a sold-out arena crowd's shrieks), and every shot and edit is designed for its target audience. Not only will young girls feel faint with adoration in a cinema, they'll wear out their DVD pause buttons. But most intriguing is the way the film captures both Bieber's incredible privilege and his real talent as a hard-working prodigy. Whether he can spin this into longevity is another question.
| | | |
| --- | --- | --- |
| | some themes, | 15.Feb.11 |