dir Will Gluck
scr Keith Merryman, David A Newman, Will Gluck
prd Liz Glotzer, Will Gluck, Martin Shafer, Janet Zucker, Jerry Zucker
with Justin Timberlake, Mila Kunis, Patricia Clarkson, Jenna Elfman, Richard Jenkins, Woody Harrelson, Bryan Greenberg, Andy Samberg, Shaun White, Masi Oka, Emma Stone, Jason Segel
release US 22.Jul.11, UK 9.Sep.11
11/US Screen Gems 1h49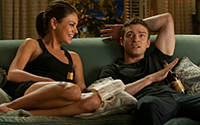 No strings attached: Kunis and Timberlake



R E V I E W B Y R I C H C L I N E

A smart, witty script and a likable cast help overcome the deep-seated rom-com cliches the filmmakers set out to deconstruct. But the central couple's strong chemistry and a stream of lively side characters keep us involved and entertained.

After a humiliating breakup, Dylan (Timberlake) meets with high-achieving headhunter Jamie (Kunis) about a new job. Friendship blossoms, and since Jamie is emotionally damaged after a recent split and Dylan is emotionally unavailable, they decide to sleep together without any deeper attachment. Meanwhile, they get increasingly involved in each others' lives, most notably as Dylan and his sister (Elfman) cope with their senile father (Jenkins). Of course, the main question is whether Dylan and Jamie can remain friends even if they have sex.

In the real world, there might be a complex answer, but this script instead opts for amusing situations and some vaguely serious relational issues, ultimately settling for predictable Hollywood morality. Which is somewhat disappointing since the script cleverly undermines stereotypes and expectations before it gives into the old formula. But there are so many terrific moments along the way, that we don't mind too much.

Timberlake and Kunis develop a sparky rapport so well that we almost believe the premise. These are beautiful, intelligent people who are believably attracted to each other and understandably reluctant to dive into another relationship. Their family and work interaction is engaging as well, especially with a superior supporting cast that includes Jenkins and Elfman as well as Clarkson (as Jamie's mum), Harrelson (as Dylan's gay colleague) and several hilarious cameos.

As it continues, there are some corny missteps (such as the running gag about Dylan's inability to add two numbers together), but the actors make the most of the snappy dialog, breathing life into characters who would be caricatures in less-skilled hands (Clarkson and Jenkins are particularly good, as always). Meanwhile, Gluck's sharp direction and editing keep the pace brisk and often laugh-out-loud hilarious, while also allowing things to get meaningfully emotional now and then. But even though the film wins us over, a braver approach could have made it much more memorable.
| | | |
| --- | --- | --- |
| | themes, language, violence, sexuality | 28.Jul.11 |