A ROSHANDA BY ANY OTHER NAME
dir Morgan Spurlock
scr Jeremy Chilnick, Morgan Spurlock
with Laura Wattenberg, Roland G Fryer, Sendhil Mullainathan



PURE CORRUPTION
dir Alex Gibney
scr Peter Bull, Alex Gibney
with Akebono, Konishiki, Keisuke Itai, Yorimasa Takeda, Hiromasa Saikawa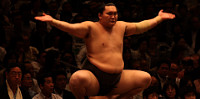 IT'S NOT ALWAYS A WONDERFUL LIFE
dir-scr Eugene Jarecki
narr Melvin Van Peebles
CAN A NINTH GRADER BE BRIBED TO SUCCEED?
dir-scr Heidi Ewing, Rachel Grady
with Kevin Muncy, Urail King, Sally Sadoff, Marcy, Teresa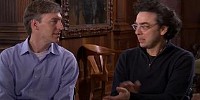 TRANSITIONAL SEGMENTS
dir-scr Seth Gordon
with Steven Levitt, Stephen Dubner
prd Kathleen Fournier, Dan O'Meara, Chris Romano, Chad Troutwine
release US 1.Oct.11, UK 3.Dec.10
10/US 1h33
R E V I E W B Y R I C H C L I N E
Based on Levitt and Dubner's book exploring "the hidden side of everything", this film features four docs and linking segments all produced to very high standards. It's extremely entertaining to watch, and might help you see the world just a bit differently. Gordon's lively transitional sequences feature the authors, plus clever clips and animation, exploring various themes that lead into the four shorts.

Spurlock explores the myth that the name our parents give us is key to our future success. But actually, names are irrelevant; they merely reflect our culture. So people judge us culturally/racially by our names, which is what impacts our opportunities. Spurlock assembles this in an energetic, slightly flippant way that's obvious, but fascinating.

Gibney takes a captivating look at corruption by centring on sumo wrestling, one of the purist environments on earth. At least it looks that way. But when stakes are high, people always figure out a way to cheat. And extensive corruption hides most successfully behind a veneer of propriety. This gorgeously shot and edited doc inventively explores a huge moral issue through the odd world of sumo, and it's clearly relevant throughout society. But the illusion of fairness is something society requires to function.

Jarecki uses sharply imaginative animation, plus clips from the Jimmy Stewart classic, to look at the 1990s drop in American crime rates. After examining the accepted reasons, Levitt floats a shocking theory that's backed up strongly by statistics: the timing points to 1973's Roe v Wade decision legalising abortion. There simply haven't been so many unwanted children, who are far more likely to go into criminal activity. This short makes its point simply and skilfully.

And finally, Ewing and Grady explore a Chicago experiment to pay teens to improve their grades, centring on two 9th graders. Kevin is a skater dude who'd rather be the class clown than graduate from high school, while Urail is a fast-talking kid inspired by the top prize. The experiment might not be conclusive, but it taps into the fact that teens find it hard to focus on their futures. And the documentary's narrative is thoroughly involving.

The central idea of each doc is that everyone responds to different incentives. We all have our own moral compasses, regardless of what we believe, and this affects how we behave as well as how we perceive others' behaviour. Which helps explains why government incentives to improve society almost always backfire.
| | | |
| --- | --- | --- |
| | themes, language, violence, sexuality | 5.Jan.11 |