dir Craig Brewer
scr Dean Pitchford, Craig Brewer
prd Gary Barber, Roger Birnbaum, Neil Meron, Dylan Sellers, Brad Weston, Craig Zadan
with Kenny Wormald, Julianne Hough, Dennis Quaid, Miles Teller, Ziah Colon, Ser'Darius William Blain, Patrick John Flueger, Ray McKinnon, Andie MacDowell, Brett Rice, Kim Dickens, L Warren Young
release US/UK 14.Oct.11
11/US Paramount 1h53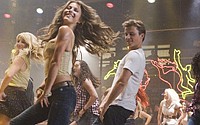 Almost paradise: Hough and Wormald



R E V I E W B Y R I C H C L I N E

A surprisingly faithful remake of the iconic 1984 hit, this crowd-pleasing romp finds some intriguing present-day resonance without pushing it too hard. Instead, it centres on the interpersonal drama and exhilarating dance moves.

After his mother dies, Boston teen Ren (Wormald) moves to small-town Bomont to live with his aunt and uncle (Dickens and McKinnon). Teens here are prohibited from dancing due to a tragedy three years earlier, so Ren is soon at loggerheads with the local minister (Quaid), whose daughter Ariel (Hough) is a wild child with a redneck boyfriend (Flueger) and an eye for Ren. As Ren deals with his own issues, he teams up with new friends Willard and Woody (Teller and Blain) to take on the system.

Intriguingly, filmmaker Brewer never parodies the original, retelling the story realistically while out parallels that wouldn't have worked in 1984 (such as indirectly comparing the dance ban with the Patriot Act). He also directs his cast to create believable characters we can engage with. And for fans of the original, he remixes all of the hit singles in clever ways. Let's Hear It for the Boy, sung as karaoke at a little girl's birthday party, is pretty fabulous.

That said, at least Kevin Bacon put some anger into the warehouse dance-rant. Wormald doesn't have the same sharp edges, and feels much more likeable, which kind of makes it hard to understand why even the repressed reverend would treat him as a villain. That said, Wormald's chemistry with Hough and his scenes with Teller and Blain are extremely enjoyable, as is the rivalry with Flueger and his drunken-chucklehead pals. And Quaid brings a nicely layered sensibility to the haunted preacher.

Brewer shoots all of this with full energy. This is a much more muscular version of singing and dancing teens than we see each week on Glee. Although the shift into more serious themes is rather clunkier. Shameless sentiment and corny plotting collide badly in the final act, which superficially races through the resolution of the various story strands so we can get back to the dancing. Which is of course the only reason we're here.
| | | |
| --- | --- | --- |
| | themes, language, violence | 16.Sep.11 |