dir George Tillman Jr
scr Tony Gayton, Joe Gayton
prd Tony Gayton, Liz Glotzer, Martin Shafer, Robert Teitel
with Dwayne Johnson, Billy Bob Thornton, Oliver Jackson-Cohen, Carla Gugino, Maggie Grace, Moon Bloodgood, Adewale Akinnuoye-Agbaje, Jennifer Carpenter, Annie Corley, Mike Epps, Xander Berkeley, Tom Berenger
release US 24.Nov.10, UK 25.Mar.11
10/US TriStar 1h38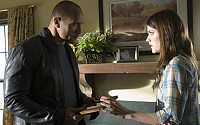 On a mission: Johnson and Carpenter



R E V I E W B Y R I C H C L I N E

With a comically masculine vibe, this grisly rampage of revenge is inventive enough to hold our interest. Although even a tiny flicker of knowing dry humour would have made it a lot more entertaining.

After his release from prison, a driver (Johnson) is reunited with his beloved muscle-car and immediately puts a bullet in a man's head, which is only the beginning of his vengeance after being set up and left for dead. The police (Thornton and Gugino) are on his trail, as is a hot-blooded killer (Jackson-Cohen) who's distracted by his gun-happy girlfriend (Grace). But the driver is moving so fast that he doesn't need to hide. He's also brazenly unswerving in his mission to settle this old score.

From the title sequence featuring Johnson's beefy, tattooed torso, we know exactly what this movie is really about: roaring machismo. We then meet Jackson-Cohen's character in a montage of lean, rippling physical strength. And the film is basically a series of violent encounters involving guns, knives, glowering stares and emotional last-gasps. Not that we're meant to feel anything for these people, although a few actors generate sympathy by injecting soul into their characters.

Shot and edited with pumping testosterone, the film's intensity comes from Johnson's tightly wound performance, as he charges through each scene with breathless focus. Although he tries, Johnson can't suppress his charm, and he also lets us see that his vicious quest has some sort of ethical code behind it. Opposite him, Thornton's sweaty cop and Gugino's no-nonsense detective add some texture, as does Jackson-Cohen's sleekly desperate hitman. And the first-rate cast of one-scene characters adds layers of interest.

Actually, all of the actors inject depth into their roles through their vivid reactions to each other. We can feel the vein-popping tension between these people because of the robust acting, which is a reflection of some strong subtext in the Gaytons' script and Tillman's direction. But the gimmicky plot and thunderous tone continually overwhelm any potential interest we may feel in the characters or situations. At least this seriousness offers a veneer of moral complexity during what's essentially a relentless orgy of violence.
| | | |
| --- | --- | --- |
| | themes, language, violence | 20.Feb.11 |