dir Jason Winer
scr Peter Baynham
prd Chris Bender, Russell Brand, Larry Brezner, Kevin McCormick, JC Spink, Michael Tadross
with Russell Brand, Helen Mirren, Greta Gerwig, Jennifer Garner, Geraldine James, Luis Guzman, Nick Nolte, Peter Van Wagner, Christina Calph, Matt Malloy, John Hodgman, Evander Holyfield
release US 8.Apr.11, UK 22.Apr.11
11/US Warner 1h51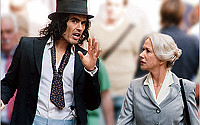 I don't want to grow up. Brand and Mirren



R E V I E W B Y R I C H C L I N E

In a sea of unnecessary remakes, this rehash of the 1981 comedy seems particularly ill-timed, as it's no longer fun to laugh at irresponsible drunks, especially when they're billionaires. But it's just about watchable.

Pampered rich boy-man Arthur Bach (Brand) has finally pushed his mother (James) too far. Head of a multinational conglomerate, she tells him he'll lose his inheritance if he doesn't marry the shark-like Susan (Garner), daughter of a property tycoon (Nolte). In a perpetual state of womanising drunkenness, Arthur is propped up by the only two people who like him: long-suffering nanny Hobson (Mirren) and patient chauffer Bitterman (Guzman). Then as he agrees to marry Susan, he finds himself falling for quirky tour guide Naomi (Gerwig).

Director Winer gives the film a sunny, goofy tone and packs it with corny slapstick that strains the talents of the cast and feels tamed to say just within the limits of a PG-13 rating. Lively sight gags (such as Arthur's collection of famous movie cars) may be mildly amusing, but the script never dares to dive into the premise, circling issues of alcoholism, greed, sexual addiction and family pressures in the most simplistic ways.

Thankfully, actual comedy emerges from time to time, thanks to both the snappy dialog and some astute improvisation. Brand almost manages to make Arthur a charming scoundrel; we never remotely like him, but we root for him to grow up just a little. Mirren is much funnier, with her bone-dry delivery of biting dialog, however obvious it may be, while Gerwig brings a loose sense of sweetness and intelligence to the entire film. By contrast, Garner is never allowed to make Susan remotely believable.

And it's this manipulative tone that makes the film rather irritating, as Winer pushes the comedy too hard, aiming for broad hilarity while awkwardly trying to moralise at every step. In this sense, the musical score is particularly forced, especially when it harks back to the original film's Oscar-winning theme song to set the mood. It's in between the contrived set pieces that the film finds moments that are cute, funny and even emotionally resonant. But don't blink: you'll miss them.
| | | |
| --- | --- | --- |
| | themes, language, innuendo, violence | 14.Apr.11 |