dir Sarah Smith
prd Steve Pegram
scr Peter Baynham, Sarah Smith
voices James McAvoy, Bill Nighy, Jim Broadbent, Hugh Laurie, Ashley Jensen, Imelda Staunton, Eva Longoria, Michael Palin, Andy Serkis, Dominic West, Joan Cusack, Jane Horrocks
release UK 11.Nov.11, US 23.Nov.11
11/UK Columbia 1h37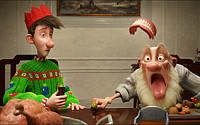 Christmas cracker: Arthur and Grandsanta



R E V I E W B Y R I C H C L I N E

This lively holiday romp has a steady stream of sharp verbal and visual gags that hold our interest. Even when the plot stalls in the middle, it's difficult to stop chuckling at the filmmakers' deranged sense of humour.

At the North Pole, Santa (Broadbent) is a bit complacent after 70 years on the job, letting his heir-apparent son Steve (Laurie) convert Christmas Eve into a high-tech black-ops style mission executed with military precision. To Steve, missing one child is an insignificant statistic. But Steve's younger brother Arthur (McAvoy) disagrees, and teams up with his feisty Grandsanta (Nighy) to make sure the last gift is delivered the old fashioned way.

Yes, the film is a riot of clashes between tradition and progress, the wisdom of the years and youthful vigour. Fortunately, the serious themes are subverted, hilariously playing with our expectations and never turning into a nostalgic paean to the olden days. That said, this British production does feel eerily co-opted by Hollywood, from the use of the American "Santa Claus" (no one ever calls him "Father Christmas", which might have made sense of the film's odd title) to the somewhat feeble attempts to ramp up the action and suspense. Not to mention a massive wave of sentimentality at the end.

But even this is undermined by Baynham (Borat) and director Smith's script, which maintains a dry British sense of humour and gives the strong vocal cast plenty of snappy material to play with. While most of the characters are a bit unmemorable, Nighy gets the best lines: Grandsanta as an old coot full of surprises, including some terrific rude jokes and an amusingly animated hound-style old reindeer sidekick. Staunton also has some terrific dialog as the underestimated Mrs Santa.

Visually the film is brightly colourful, amusingly designed with small sight gags and continual Christmas imagery. While the characters look a little plasticky, the settings are gorgeously rendered, and the flying sleigh sequences almost make it worth seeing in 3D. The problem is that the film feels stretched out by random antics and underdeveloped plot-threads along the way that add nothing to the overall story. So we get tired of the bumbling chaos, mainly because we know exactly where it's got to end up.
| | | |
| --- | --- | --- |
| | themes, mild vulgarity, some suspense | 7.Nov.11 |