dir John Luessenhop
prd William Packer
scr Peter Allen, Gabriel Casseus, John Luessenhop, Avery Duff
with Matt Dillon, Idris Elba, Jay Hernandez, Chris Brown, Paul Walker, Hayden Christensen, Tip "T.I." Harris, Michael Ealy, Zoe Saldana, Marianne Jean-Baptiste, Zulay Henao, Jonathon Schaech
release 27.Aug.10, UK 1.Oct.10
10/US Screen Gems 1h47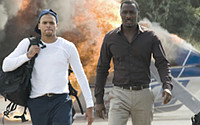 Just too achingly cool: Brown and Elba



R E V I E W B Y R I C H C L I N E

Loud and very violent (within the limits of a PG-13 rating), this supposedly gritty thriller strains so hard to be sleek and cool that it completely forgets to create believable characters or situations.

Cops Jack and Eddie (Dillon and Hernandez) are on the trail of a fiendishly efficient band of bank robbers made up of brainy, brawny Gordon (Elba) and his well-dressed goons (Brown, Walker, Christensen and Ealy). When former gang member Ghost (Harris) is released from prison, he presents them with a "once-in-a-lifetime job". But they only have five days to prepare, which is less than they're used to. Something seems fishy, but they go ahead with the heist. And sure enough, not only are the cops closing in, but Ghost may betray them.

Unoriginality aside, just a little character depth might have made this an enjoyable romp. But director-cowriter Luessenhop can't be bothered with anything beneath the surface. Everything we know about these men is a clunky plot point; the women are all thankless, pouty creatures who are treated by the men as if they're another possession, ranking slightly beneath their trendy, shiny cars and motorbikes. And this shameless macho posturing is actually portrayed as something desirable.

We know from the start that Luessenhop takes this all far too seriously, as he dives in without any credits at all, wallowing in the achingly hip lives these super-criminals lead. Although how they got this far is anyone's guess when they do stupid things like blow up a helicopter in the Dodger Stadium parking lot, announcing to all of Los Angeles that the robbers are right here. And since we're in PG-13 World, the swearing is simplistic, the sex is just shy of suggestive and the endlessly brutal violence is eerily bloodless.

In other words, this is reprehensible filmmaking on every level. Not only is it essentially saying that the way to achieve showy wealth and women is through thievery, but it refuses to acknowledge the real repercussions of this kind of activity. It's also sloppily written and unevenly acted (Elba and Harris give the most interesting performances). But it's the contrived situations and bombastic, chaotic action that leave it feeling rather boring.
| | | |
| --- | --- | --- |
| | themes language, violence | 18.Aug.10 |