dir Nimrod Antal
scr Alex Litvak, Michael Finch
prd Elizabeth Avellan, John Davis, Robert Rodriguez
with Adrien Brody, Topher Grace, Alice Braga, Laurence Fishburne, Walton Goggins, Oleg Taktarov, Danny Trejo, Louis Ozawa Changchien, Mahershalalhashbaz Ali, Carey Jones, Brian Steele, Derek Mears
release UK 8.Jul.10, US 9.Jul.10
10/US Fox 1h47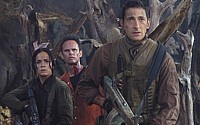 Into the woods: Braga, Goggins and Brody


---
See also:


R E V I E W B Y R I C H C L I N E

Stylish direction and an above-average cast help lift this noisy action sequel above the fray. But nothing can disguise the fact that it's also contrived, chaotic and ultimately pointless.

Eight people wake up in freefall as they drop into a mysterious jungle. It's clear that they've been carefully selected: the mercenary tough guy (Brody), brainy scientist (Grace), military hero (Braga), death-row maniac (Goggins), Russian fighter (Taktarov), Mexican brawler (Trejo), Yakuza killer (Changchien) and African warrior (Ali). And they soon realise that they're on some alien planet, acting as both prey and predators in some sick hunting game. Then they encounter a jittery nutcase (Fishburne) who has somehow eluded attack for several years.

The set-up feels like either a brutal variation on Lost or an extended episode of The Twilight Zone, as mysteries resolve themselves very slowly (or not at all) and tables are constantly turned while moral lessons are learned. Much of the dialog consists of grunting cliches, but the actors manage to inject personalities wherever they can, and the whole film has a jolt of attitude that keeps it from being boring even as the action gets increasingly tedious.

The main problem is that one glaring logical lapse means that all of the key clashes take place at night, which might cover up deficiencies in effects work but leaves key details impossible to make out. For example, why have a samurai vs alien blade battle when you can barely see what's happening? After the bracingly thrilling opening and the visually stunning first act, the final face-offs are so murky that it's difficult to care who wins.

Even so, the actors are good fun to watch as they bicker and stumble and try to figure out what's going on. Grace's character only seems to be there to fall down, lose his way or almost get killed at every turn. And the clash between Brody's ruthless survivalism and Braga's steely humanity not only gives the film some intriguing thematic subtext but also adds the requisite romantic element. Not that any of that matters; this is a fast, violent summer movie that isn't really meant to make us think about anything.
| | | |
| --- | --- | --- |
| | themes, violence, language | 5.Jul.10 |