dir Edward Zwick
scr Charles Randolph, Edward Zwick, Marshall Herskovitz
prd Pieter Jan Brugge, Marshall Herskovitz, Charles Randolph, Scott Stuber, Edward Zwick
with Jake Gyllenhaal, Anne Hathaway, Oliver Platt, Josh Gad, Hank Azaria, Gabriel Macht, Judy Greer, Jill Clayburgh, George Segal, Katheryn Winnick, Jaimie Alexander, Scott Cohen
release US 24.Nov.10, UK 29.Dec.10
10/US Fox 1h52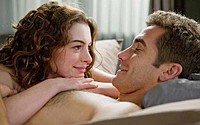 Pillow talk: Hathaway and Gyllenhaal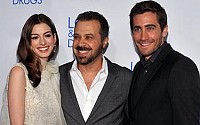 The threesome
INTERVIEW:
Hathaway, Zwick and Gyllenhaal >>
R E V I E W B Y R I C H C L I N E
This engaging film blends a true story with fiction, morphing from a rom-com into a moving drama as it goes along. In addition, it's a sharply well-aimed jab at the pharmaceutical world. Although it also has a tendency to be cute and fluffy, even when the plot turns serious.

In 1996, Jamie (Gyllenhaal) has discovered his gift as a salesman, mainly peddling his own charms to every young woman he meets. In need of a higher-paying job, he trains as a Pfizer pharmaceutical rep in the Ohio River Valley. It takes awhile to learn the ropes, and sales are tough due to a fierce rival (Macht). But when Pfizer introduces Viagra, his numbers improve dramatically, to say the least. Meanwhile, he meets Maggie (Hathaway), a feisty young woman with early-stage Parkinson's who challenges his view of himself.

The filmmakers take a refreshingly sideways approach to this story, drawing on the ignored adult-romance genre (think Jerry Maguire or Sleepless in Seattle) while gleefully twisting stereotypes and cliches. The characters are utterly believable in each situation, whether playing for laughs or tears. Most notably, Jamie and Maggie's sexual encounters are realistically lusty, never watered down like Hollywood films that pander to vain/shy actors.

Although the mixture of all of this sex, comedy and drama is a little awkward, the actors bridge the gaps effortlessly. Gyllenhaal and Hathaway offer full-on performances that are complex and a little rough around the edges. Their relationship is so engaging that we barely notice the film's frequent tonal shifts or the overlong running time. Meanwhile, they are ably supported by a terrific cast of scene-stealers, with Azaria and Platt as comical sidekicks who are genuinely amusing, and Gad as one who isn't.

While this a razor-sharp comment on the high-stakes commercialisation of prescription medicine, it's the script's introspective approach to its characters that makes it so involving. It isn't nearly as deep and meaningful as it tries to be, but director Zwick keeps everything firmly grounded on the people. And it's great to see him return to the intimate, warm, engaging comedy he and Herskovitz pioneered with their 1980s TV series Thirtysomething.
| | | |
| --- | --- | --- |
| | themes, language, sexuality | 11.Nov.10 |