dir Scott Stewart
scr Peter Schink, Scott Stewart
prd David Lancaster, Michel Litvak
with Paul Bettany, Lucas Black, Adrianne Palicki, Dennis Quaid, Tyrese Gibson, Kevin Durand, Charles S Dutton, Kate Walsh, Willa Holland, Jon Tenney, Jeanette Miller, Doug Jones
release US 22.Jan.10, UK 5.Mar.10
10/US Screen Gems 1h44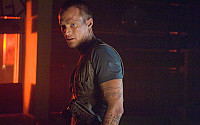 Armed to the teeth: Bettany



R E V I E W B Y R I C H C L I N E
There's nothing wrong with being preposterous, but this guilty pleasure thriller has a tendency to be pretentious as well. Despite a few winks at the camera, the emphasis on po-faced, nasty brutality wears rather thin.

The angel Michael (Bettany) has fallen from heaven, cut off his wings and armed himself to the teeth. Soon he's holed up in a remote desert diner run by Bob (Quaid) and his son Jeep (Black). Michael encourages the rag-tag group in the diner (including Gibson's shady tough guy, one-armed chef Dutton and bickering family Walsh, Tenney and Holland) to fight an invading horde of zombies, apparently sent by God to destroy humanity. And mankind's only hope is to save the unborn child of a waitress (Palicki) from the snarling angel Gabriel (Durand).

So far so silly, and indeed there are moments when it's clear that the filmmakers knew full-well how corny their premise was. But there's a niggling indulgence in here as well, and things get thoroughly overblown as director Stewart gives in to his clear adoration of big guns, gleaming knives and giant hunks of under-cooked steak, plus corny surprises when icons of niceness turn nasty (with some cool digital assistance). And it's never quite clear why angels need to arm themselves with huge guns and bigger blades while wearing leather bondage gear.

As always, Bettany dives into this film as if it's the gospel, fully investing in the character and actually making us care about him. And this rubs off on some of the side characters as well, including Black's simple hero and Palicki's conflicted mum-to-be. And they face some inventively nutty foes along the way, including the uber-camp Durand, combining real tension and horror with laughter at the gonzo nerve of it all.

The central question here is whether humanity deserves to survive on earth. But the script only addresses this with some half-hearted moralising about justice issues and the environment. Instead, the movie focuses completely on the grunting, gruelling fight scenes, with some pretty extreme grisliness as the air fills with bullets and swordplay. It's dully enjoyable while it lasts, but could have been a lot more fun.
| | | |
| --- | --- | --- |
| | themes, language, strong violence | 27.Jan.10 |