dir Josh Appignanesi
scr David Baddiel
prd Arvind Ethan David, Uzma Hasan, Stewart Le Marechal
with Omid Djalili, Richard Schiff, Archie Panjabi, Amit Shah, Igal Naor, Mina Anwar, Soraya Radford, Matt Lucas, Bhasker Patel, Miranda Hart, David Schneider, Paul Kaye
release UK 9.Apr.10
10/UK Slingshot 1h45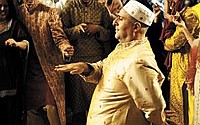 Walk the walk: Djalili



R E V I E W B Y R I C H C L I N E

Astutely combining sharp comedy with complex political and theological issues, this film is packed with strong themes and vivid characters that keep us interested even as the plot drifts into silly slapstick.

London cabbie Mahmud (Djalili) is a loving family man and a relaxed Muslim whose son Rashid (Shah) wants to marry the step-daughter (Radford) of a radical Imam (Naor). But just as Mahmud is trying to behave like a better Muslim, he discovers that his birth parents were Jewish. Suddenly, his whole world shifts on its axis, and he turns to rival Jewish cabbie Lenny (Schiff) for advice. He's also understandably terrified to tell his family the truth, although his wife (Panjabi) suspects that something's up.

While Baddiel's smart, funny script probes the comical possibilities, Appignanesi's direction continually looks for sight gags and rude jokes. The result is a little uneven: even though these two elements come together often, the wacky physical humour sometimes undermines the more provocative themes. On the other hand, this approach keeps us nicely off-balance, never quite sure where the story might go while allowing the cast to make the most of their characters.

Most enjoyable, and telling, is the way this news causes Mahmud to see the world through different eyes. Not only is this amusing, but it also challenges our own perspective on the world around us. Djalili plays this cleverly; we can understand why Mahmud finds it impossible to continue hating Jews. Watching him try to become a better Muslim even as he's studying Judaism is pretty intense, although it's basically played for laughs. When Lenny welcomes Mahmud to "the worldwide conspiracy", it's a joke. Right?

These elements make the film much more meaningful than most comedies, and add offbeat details to the characters and situations. So it's a bit frustrating when the plot takes over in the final act, weaving in a side-story from early on that we knew would come back later, then heading for a big showdown that feels like it was grafted on from Hollywood script-writing software. This milks the emotions more than was necessary, but even here the corny slapstick is intermingled with theology, giving the whole film a potent kick.
| | | |
| --- | --- | --- |
| | themes, language, some violence | 25.Jan.10 |