dir Nanette Burstein
scr Geoff LaTulippe
prd Jennifer Gibgot, Garrett Grant, Adam Shankman
with Drew Barrymore, Justin Long, Christina Applegate, Jason Sudeikis, Charlie Day, Ron Livingston, Jim Gaffigan, Oliver Jackson-Cohen, Kelli Garner, Sarah Burns, Kristen Schaal, Natalie Morales
release US 3.Sep.10, UK 10.Sep.10
10/US 1h42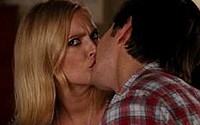 Jet set: Barrymore and Long



R E V I E W B Y R I C H C L I N E

It might not be particularly original, but this rom-com at least takes a fresh approach to the formula. It also features two superbly winning actors in the lead roles, and the chemistry between them is utterly charming.

Garrett (Long) is struggling to get over a break-up when he meets Erin (Barrymore), a lively woman who connects with him both romantically and as a best friend. But Erin is only in New York for a summer internship, and when she returns to San Francisco their romance is strained by the 3,000 miles between them. Garrett's friends (Day and Sudeikis) aren't much help, while Erin's sister and brother-in-law (Applegate and Gaffigan) don't really get it. And as the months pass, Erin and Garrett have some difficult decisions to make.

The film's smart, snappy dialog is slightly undermined by that anonymous, over-lit American directorial style that looks slick but kind of flattens everything in its path. But the cast is more than able to make up for this by seizing the script's more deranged moments and adding hilarious character details at every turn. Barrymore and Long are a joy to watch on screen; even when the plot starts to drag, they're almost painfully endearing. And we root for them from their Top Gun/Dirty Dancing meeting right through to the bittersweet end.

The side characters also add jagged moments of comedy and emotion along the way. Alltogether, the cast and crew effectively recreate that panicky feeling of being separated from someone you love, including the sudden loneliness, that first "I love you" and the goofy elation of each reunion. All of this is played for smiles, and sometimes also for laughs. And it also effectively captures the current zeitgeist of an economy in which the lack of jobs severely limits our options.

Along the way, there are some very funny bits, including a particularly silly tanning booth scene and an unusually astute take on phone sex. But even though it's subverting the formula, the romantic comedy structure is still here. So no matter how complex their dilemma gets, we're never in much doubt how it will all turn out in the end. Not that we'd want it any other way.
| | | |
| --- | --- | --- |
| | themes, language, sexuality | 3.Aug.10 |