dir John Landis
prd Barnaby Thompson
scr Piers Ashworth, Nick Moorcroft
with Simon Pegg, Andy Serkis, Isla Fisher, Jessica Hynes, Tom Wilkinson, Tim Curry, Hugh Bonneville, Ronnie Corbett, Allan Corduner, David Hayman, Reece Shearsmith, Bill Bailey
release UK 29.Oct.10
10/UK Ealing 1h31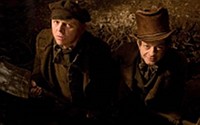 Grave robbers: Pegg and Serkis



R E V I E W B Y R I C H C L I N E

You can see what Landis was trying to do here: recapture the funny-scary tone of one of his biggest hits, 1981's An American Werewolf in London. But the mix of comedy and grisliness in this comical take on a true story is off the mark.

In 1828 Edinburgh, friends William Burke (Pegg) and William Hare (Serkis) realise they can make good money supplying cadavers to world-class surgeon Dr Knox (Wilkinson). But when they can't find a dead body, they kill someone instead. Hare's wife (Hynes) finds out and wants in on it, but Burke can't tell his aspiring actress girlfriend (Fisher) how he makes his living. Meanwhile, Knox is battling a rival surgeon (Curry) for the King's seal. And the local militia captain (Corbett) is closing in.

Landis strikes a jolly tone from the start, with Bailey's lively narration setting the scene and performances that are fairly broad across the board. Some of the characters are just short of cartoonish, and some scenes cross the line into corny farce. In contrast to this silliness, there's detailed period-movie production design and genuinely grisly violence. Not to mention the serial killer plot itself, which is rather difficult to imagine as a comedy.

So to make it funny, the screenwriters both rewrite history and weave in a series of gags that are amusing but never hilarious. There's a subplot about Knox's assistant (Corduner) inventing photography, a couple of thuggish mobsters (Hayman and Shearsmith) and an all-female version of Macbeth. Not to mention a constant flow of cameos - from Werewolf star Jenny Agutter and the iconic Christopher Lee to filmmakers Ray Harryhausen and Costa-Gavras.

The cast members dive into their roles with gusto, and they make the film watchable even when it gets increasingly ridiculous. Pegg and Fisher almost make their cute romantic plotline work, but it's hard not to feel like all of the actors are wasted in underwritten roles. And Burke's emotional crisis of conscience sits at awkward odds with the merry string of murders most foul. It's great to see Landis working again, and he assembles this with skill. But clearly serial killers aren't as funny as werewolves.
| | | |
| --- | --- | --- |
| | themes, language, grisliness, sexuality | 26.Oct.10 |