dir Shane Acker
scr Pamela Pettler
prd Timur Bekmambetov, Tim Burton, Dana Ginsburg, Jinko Gotoh, Jim Lemley
voices Elijah Wood, Jennifer Connelly, Christopher Plummer, John C Reilly, Martin Landau, Crispin Glover, Fred Tatasciore, Alan Oppenheimer, Tom Kane, Helen Wilson
release US 9.Sep.09, UK 28.Oct.09
09/US Focus 1h19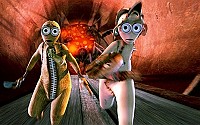 The machine is angry: 9 and 7



R E V I E W B Y R I C H C L I N E

Inventively animated with a striking attention to detail, this offbeat thriller might have trouble finding an audience, as the sweet and scary elements sit rather awkwardly alongside each other. But it's still ambitious and engaging.

Number 9 (Wood) is a brave little creature who wakes up into a decimated city where meets the inventive 2 (Landau), who's promptly captured by a scary monster. Soon 9 finds a community led by conservative leader 1 (Plummer) with his muscly/dim bodyguard 8 (Tatasciore) and obsessive sketch artist 6 (Glover). It's the friendly 5 (Reilly) who accompanies 9 to rescue 2, and along the way they meet swashbuckling 7 (Connolly) and bookish twins 3 and 4. Together they need to figure out how to stop a voracious soul-sucking machine.

The film kicks off darkly and stays there, with the post-apocalyptic cityscape and terrifying mechanical beasts. As it progresses, it fills in the backstory about what happened to humanity, which lets the filmmakers echo everything from War of the Worlds to The Matrix by way of The Twilight Zone, The Terminator and Edward Scissorhands. But all of this subtly serves a story about a ragtag group of handmade creatures trying to discover their true purpose.

Yes, there's a strong religious undercurrent, with story elements about the afterlife and the sins of the past, as well as a small sliver of hope for the future. And along the way, director Acker keeps us gripped with his visual creativity. So it's a bit strange that there's so little emotional resonance in the characters, despite some sentimentality later on. It could have something to do with the somewhat bland dialog and voice work, but the real problem seems to be one of compromise on the overall tone.

We can definitely sense that the filmmakers wanted to go for something grim and freaky, and some sequences jolt us with sharply flashing blades, fiery explosions and grisly attacks. But the central nine characters are cuddly and wide-eyed in a way that undermines the suspense. They look more like huggable toys than movie characters, and teens won't have patience for something this cute. Meanwhile, it's is far too creepy and violent for young children. Which is a shame because there's some terrific material in here, and real skill up on the screen.
| | | |
| --- | --- | --- |
| | themes, violence, suspense | 16.Sep.09 |