dir David Frankel
scr Scott Frank, Don Roos
with Owen Wilson, Jennifer Aniston, Eric Dane, Alan Arkin, Kathleen Turner, Nathan Gamble, Finley Jacobsen, Lucy Merriam, Haley Hudson, Haley Bennett, Ann Dowd, Joyce Van Patten
release US 25.Dec.08, UK 13.Mar.09
08/US Fox 1h56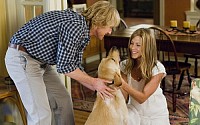 Man's best friend: Wilson and Aniston with Marley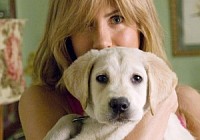 See also Shadows'
Exclusive interview
with OWEN WILSON and
JENNIFER ANISTON
R E V I E W B Y R I C H C L I N E
Although billed as a romantic comedy, this film is neither: it's a drama spanning about two decades in a marriage. As such, it's effectively written and directed, with engaging performances from both humans and dogs.

John Grogan (Wilson) is a journalist who moves with his wife Jenny (Aniston) to South Florida. To delay her desire for children, he buys her an adorable Labrador puppy, which they name Marley after reggae legend Bob. But Marley is a real handful; the dog trainer (Turner) won't even let him in her class. And when John's editor (Arkin) gives him a newspaper column, he realises that Marley provides great material. Even so, he's jealous of his pal Sebastian (Dane), a ladies' man who writes real news.

Essentially this is about a man coming to terms with the fact that he must accept what life gives him and make the most of it. And since it's based on the Grogans' true story, the plot turns feel refreshingly non-formulaic. Meanwhile, Wilson and Aniston have a relaxed, authentic chemistry, and deliver offhanded performances that nicely capture both the hilarious chaos and the sometimes wrenching emotions along the way.

None of the film is played as slapstick, which is a nice surprise in a mischievous dog movie. And the supporting cast manages to avoid stereotypes, with Arkin's bone-dry comic genius and Dane's refusal to make his character a buffoon. And as the Grogan kids, Gamble, Jacobsen and Merriam even get some solid scenes. But of course, the dogs are the stars, and the line-up playing Marley from puppy to ageing pooch are absolutely gorgeous. Even though he's a bad dog, we understand why he becomes an integral part of this growing family.

Even so, while the film is thoroughly enjoyable, it never becomes anything remarkable. It feels like we're watching someone's particularly well-produced home movies, following their life together as a family. There are plenty of things we can identify with along the way, mainly for those who have owned dogs, but also marriage and child issues. But it never tells us anything new. And as a result, also like watching someone else's home movies, it feels like it goes on and on.
| | | |
| --- | --- | --- |
| | themes, language | 25.Feb.09 |

Ryae Cuthbert, Vancouver, British Columbia:

The ending, as sad as it is, was probably the best part. Love the cast, and love that they took a dog book and created a very realistic portrayal of life, with a dog, marriage and children. (14.Apr.16)