dir Damien Dante Wayans
scr Keenen Ivory Wayans, Shawn Wayans, Marlon Wayans, Craig Wayans, Damien Dante Wayans
prd Rick Alvarez, Keenen Ivory Wayans, Marlon Wayans, Shawn Wayans
with Shoshana Bush, Damon Wayans Jr, Essence Atkins, Affion Crockett, David Alan Grier, Brennan Hillard, Chelsea Makela, Ross Thomas, Amy Sedaris, Chris Elliott, Lochlyn Munro, Heather McDonald
release US 22.May.09, UK 21.Aug.09
09/US Paramount 1h23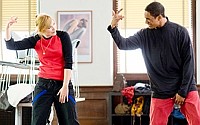 Try to keep up: Bush and Wayans Jr


R E V I E W B Y R I C H C L I N E
The recent spate of dance-based movies is ripe for parody, but this pastiche never manages to find an actual joke. We're left with a painfully convoluted non-plot trying to link together a series of lead-ins to never-realised punchlines.

Megan (Bush) is a perky teen who always wanted to be a ballerina but wound up in the inner-city Musical High School instead of Julliard. She's befriended by the sassy Charity (Atkins), whose brother Thomas (Wayans Jr) catches her eye and offers to teach her some new dance steps. But Thomas and his pal (Crockett) are in debt to a local gangster (Grier). To pay up they need to take on a rival team in The Streets dance-off, which happens to be on the same night as the school's Senior Showcase.

The filmmakers throw in references to everything they can think of, and then some. Although most of this is fairly recent (Step Up, You Got Served, High School Musical, Hairspray, Dreamgirls, Little Miss Sunshine, Ray, Twilight and, erm, Black Snake Moan), they also reach way back for extended references to Fame and Flashdance. The problem is that, while they recreate and riff on these scenes with some pretty terrific choreography, there's nothing remotely comical going on.

The movie is essentially a collage of cheap jokes about body parts and bodily fluids, and much of the attempted humour centres on gay, racial and disability stereotyping. But none of this is even bold enough to be offensive. Essentially every scene is a set-up with nowhere to go, and as the central narrative gets increasingly loopy, the film gets downright tedious. Long stretches are given over to clumsy plotting. Even bad jokes are better than none at all.

We're way beyond the Wayans brothers here, as cousins, nieces and nephews join in for this supposedly hilarious romp. In addition to the five writers (one of whom also directed) and three producers, the cast includes 10 people with the family name. Which is essentially our first clue that this is an inside joke. This is the only explanation why nothing in this film is even remotely funny to the rest of us.
| | | |
| --- | --- | --- |
| | themes, vulgarity, language, violence | 17.Aug.09 |