dir Ron Howard
scr David Koepp, Akiva Goldsman
with Tom Hanks, Ewan McGregor, Ayelet Zurer, Stellan Skarsgård, Armin Mueller-Stahl, Pierfrancesco Favino, Nikolaj Lie Kaas, Thure Lindhardt, David Pasquesi, Cosimo Fusco, Victor Alfieri, Marco Fiorini
release UK 14.May.09, US 15.May.09
08/US Columbia 2h18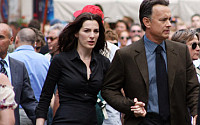 Following the clues: Zurer and Hanks



---
See also:



R E V I E W B Y R I C H C L I N E

Based on Dan Brown's first Robert Langdon book, this story has been refashioned into a DaVinci Code sequel. And thankfully the filmmakers get the tone right this time, with a lively romp that's not afraid to get a bit silly.

Shortly after the death of the Pope, symbols expert Robert (Hanks) is called by the Vatican for help: the Illuminati, an ancient enemy of the church, has kidnapped the four papal candidates and is threatening obliteration with a bomb made from stolen anti-matter. Robert teams up with scientist Vittoria (Zurer) to help the Camerlengo (McGregor), head of Vatican security (Skarsgard) and a local cop (Favino). But their clue-solving seems to be one step behind the sinister villain (Kaas).

Nothing about this story actually makes sense, but rather than try to convince us of its authenticity (as in the first movie), the filmmakers simply accelerate through the plot, inventing random moments of action (like frantic non-chases through the streets of Rome or an underground near-death experience) while adding shifty/quirky character details. As always, Howard is a master at casting, and he knows how to make the most of a throwaway glance or a subtle nod.

The cast seems to be having a lot of fun this time. Virtually all of Hanks' dialog is outrageously detailed plot exposition, and yet he dives into each rattling speech with gusto while everyone around him feigns fascination. Skarsgard, Mueller-Stahl (as a cardinal) and Favino are marvellously shadowy, and Zurer is a sharper-than-usual female lead. McGregor, on the other hand, seems to be playing his role as if he's Obi-wan on quaaludes. He's supposed to be Irish, but he sounds alternatively Scottish, American and English.

In the end, the preposterous plot can't quite sustain such an overlong running time, even though the constant faux action keeps us from really noticing. And by sticking to a relatively contained murder-terrorism mystery, the film avoids the pretentiousness that weighed down the first film. This is a much more adrenaline-charged affair with a more typically twisty Hollywood-style narrative. In other words, it feels more like a mindless summer blockbuster. Which is of course exactly what it is.
| | | |
| --- | --- | --- |
| | themes, language, strong violence | 7.May.09 |