R E V I E W B Y R I C H C L I N E
dir Catherine Owens, Mark Pellington
with Bono, The Edge, Adam Clayton, Larry Mullen Jr
release US 23.Jan.08, UK 22.Feb.08
08/US National Geographic 1h25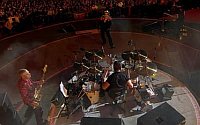 ---
SET LIST:
Vertigo
New Year's Day
Sometimes You Can't Make It on Your Own
Love and Peace
Sunday Bloody Sunday
Bullet the Blue Sky
Miss Sarajevo
Pride (In the Name of Love)
Where the Streets Have No Name
One
The Fly
With or Without You
Yahweh

The rock mega-band U2 has made so many concert films that it's hard to get excited about this one, even though it's filmed in 3D in the Imax format. But the film is a revelation, redefining 3D live-action moviemaking.

Shot at seven shows around Latin America, this film re-assembles a single performance set for us, moving from song to song with few distractions. There's no backstage footage and minimal on-stage patter. It's pretty much just the music, but the huge screen, over-sized stage set, 3D cinematography and enveloping Imax sound give us an exhilarating ride through each song, capturing the energy that sparks between the roaring crowd and the band members, who work together seamlessly.

In some ways, watching this film is like seeing 3D used properly for the first time. This is mainly due to the filmmakers' editing style, in which they layer imagery into the foreground and background to create some truly gorgeous combinations. They cleverly use smoke, light and animation in front of and behind other scenes. And the pristine, massive images really capture the passion of the performances, making the experience intimate and emotional.

The undulations of the crowd are impressive as well, including the requisite mobile-phone light-up during Where the Streets Have No Name. It helps that the stage extends into the audience, allowing each band member to interact with the fans. Other highlights include a skilful juxtaposition of The Edge on stage with a video-wall image of Bono during Sometime You Can't Make It on Your Own, and the show-stopping anthem One. There's also an impressionistic section devoted to the United Nations Declaration of Human Rights.

Obviously, you need to be a U2 fan to enjoy this, or at least interested in understanding the longevity of their songs and politics. But those who have followed U2 over the years will love it, since it shows vividly that the band is just as fresh and ardent now as they were 25 years ago. They bring a whole new resonance to such iconic numbers as Sunday Bloody Sunday (1983) and Pride (1984), and put a gritty spin on With of Without You (1987). And the best thing about this film is the way it avoids 3D gimmicks to artfully show us the band at work.
| | | |
| --- | --- | --- |
| | some themes | 5.Feb.08 |