dir-scr The Wachowski Brothers
with Emile Hirsch, Christina Ricci, John Goodman, Susan Sarandon, Matthew Fox, Roger Allam, Kick Gurry, Paulie Litt, Benno Fčrmann, Scott Porter, Rain, Richard Roundtree, Hiroyuki Sanada, Melvil Poupaud, Christian Oliver, Moritz Bleibtreu
release UK/US 9.May.08
08/Germany Warner 2h15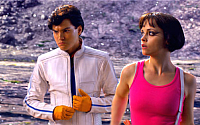 Go, Speed, go! Hirsch and Ricci



---
See also:
AN EXCLUSIVE INTERVIEW
WITH THE CAST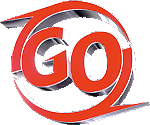 R E V I E W B Y R I C H C L I N E

This whizzy and outrageously colourful family action romp is a visually breathtaking hybrid of animation and live action. The story may feel about as gripping as a videogame, but the film is pure eye candy.

For the Racer family, cars are in the blood, from Mom and Pops (Sarandon and Goodman) to sons Rex, Speed and Spritle (Porter, Hirsch and Litt), plus Speed's girlfriend Trixie (Ricci) and ace mechanic Sparky (Gurry). Ten years after Rex's mysterious death, Speed is now the rising star in the racing circuit, but he enrages a megabucks corporate sponsor (Allam) by refusing to join his team. So it's war on and off the track, especially when Speed teams up with a detective (Furmann) and secretive driver X (Fox) to expose corruption in the sport.

The Wachowskis cleverly adapt the 1960s anime series into a full-on blockbuster movie, maintaining the full-contact racing style (which they call "car-fu") and surreal, gravity-defying races on looping tracks and treacherous mountain roads. They also maintain the central focus on the dynamic that holds Racer family tightly together, which is about the only thing that holds the film together as well. Although it also allows for some gooey schmaltz. At least the international array of fine actors manage to create entertaining characters and maintain their dignity amid the flurry of effects.

And really, that's what this film is. The Wachowskis are never likely to settle for something we've seen before, and this movie is an astonishing barrage of garish, whirling imagery from start to finish. The detail is impressive, as is the complex action choreography and a continuous streak of silly humour that keeps it from being pretentious (which is where The Matrix went wrong).

This is just big action fun, with some family drama and a good versus bad plot that isn't nearly as twisty as it pretends to be. Actually, the plot is rather thinly filled in just to connect the racing scenes. And this lack of something to grab onto leaves the film feeling very long and strangely dull, even amid in the biggest effects sequences. It's kind of like looking through a kaleidoscope for two hours--fascinating and dazzling, but instantly forgettable.
| | | |
| --- | --- | --- |
| | themes, violence, some language | 27.Apr.08 |