dir-scr Guy Ritchie
with Gerard Butler, Thandie Newton, Tom Wilkinson, Toby Kebbell, Mark Strong, Idris Elba, Tom Hardy, Karel Roden, Jimi Mistry, Nonso Anozie, Geoff Bell, Jeremy Piven, Chris Bridges, Gemma Arterton, David Leon, Roland Manookian
release UK 5.Sep.08, US 8.Oct.08
08/UK Warner 1h54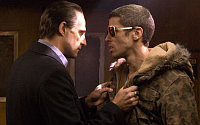 Listen here: Strong and Kebbell



---
See also:
INTERVIEW WITH GUY RITCHIE AND THE CAST
R E V I E W B Y R I C H C L I N E

With a sprawling cast of vivid characters, this film is a welcome return to Ritchie's lively British crime milieu. And while it does add a certain existential undercurrent, there's not much here that he hasn't done before.

Lenny (Wilkinson) is a ruthless London property tycoon with a city councillor (Mistry) in his pocket. His latest venture involves a fragile deal with a slick Russian mobster (Roden). Into the middle of this comes One-Two (Butler) and his Wild Bunch of gambling buddies (Hardy, Elba and Bell), who get entangled with Lenny's devious accountant (Newton) and his efficient minder (Strong) while looking for an important painting that was borrowed by Lenny's now-missing rock-star stepson (Kebbell). Everyone's in over their head, and they don't know it.

As with Lock, Stock and Snatch, Ritchie fills the screen with whizzy graphics, snappy editing and eye-catching visual gags, plus One-Two's sardonic narration, which is both knowing and deeply ignorant. The huge number of characters are sharp enough to keep straight, thankfully, with their wilfully nutty personalities and private obsessions. And when it turns violent or sexy, Ritchie undermines things with sassy direction or farcical comedy.

In other words, the film is far too clever for its own good, mainly because there's nothing much to it until Kebbell's wonderful title character emerges about halfway in. At least it's engaging, due to the colourful performances from a cast that's clearly having a ball with their characters, even if none of them are very complex. This keeps us entertained while all of the plot threads slowly, finally begin to converge, as we know they must, for the big finale.

If it sounds like I'm talking in circles, it's because that's exactly what the film does. It often feels like a freewheeling version of The Departed, as everyone searches for the rat in their midst (even though they're all rats). While the moral dilemmas are shallow, at least the gleefully nasty violence isn't too explicit. But as Ritchie makes pointed comments about drug abuse, homophobia and xenophobia, he also encourages all three through his approach to the characters. Even so, the style and energy, plus the terrifically memorable characters, make it mindlessly good fun.
| | | |
| --- | --- | --- |
| | themes, very strong language, violence, innuendo | 7.Aug.08 |