dir Eric Darnell, Tom McGrath
scr Etan Cohen
voices Ben Stiller, Chris Rock, David Schwimmer, Jada Pinkett Smith, Sacha Baron Cohen, Alec Baldwin, Bernie Mac, Tom McGrath, Andy Richter, Sherri Shepherd, Cedric the Entertainer, Will.I.Am
release US 7.Nov.08, UK 5.Dec.08
08/US DreamWorks 1h29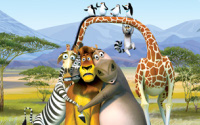 Under African skies: Melman, Marty, Alex and Gloria with the penguins and Julien



---
R E V I E W B Y R I C H C L I N E

Stronger animation and a textured story make this even more entertaining than the original. And combined with terrific work from the vocal cast, this becomes a thoroughly hilarious take on The Lion King.

After being stranded in Madagascar, four lost zoo animals--lion Alex (Stiller), zebra Marty (Rock), giraffe Melman (Schwimmer) and hippo Gloria (Smith)--plan to return to New York with the help of those inventive penguins. Not to mention the gleefully silly lemur king Julien (Baron Cohen). But their plane only makes it as far as the Serengeti, where our heroes discover other creatures like themselves. The biggest shock is for Alex, who finds his parents (Mac and Shepherd) and has to help fend off a challenge from the conniving Makunga (Baldwin).

The father-son storyline feels fairly familiar until the film's themes creep in. This is quite possibly the first Hollywood family movie to really address sexuality, without actually mentioning it of course. Alex's parents are disappointed to discover that their son can't fight, but rather is a dancer with an encyclopaedic knowledge of Broadway choreography. Their voyage of mutual acceptance is the film's real plot, and adds a kick that's augmented by clever comments on inter-species marriage, religious fanaticism and the dangers of survivalism.

But these are the kinds of themes that float below most viewers' radar due to the hilarious on-screen antics. The writers, actors and designers really push the boundaries of a genre that has become predictable and safe. A deranged sense of unpredictable wit fills the dialog and imagery, with constant gags that keep us laughing. From the penguins' outrageous hijacking technique to Alex's sudden West Side Story moves to Julien's outrageous wriggling, there's never a moment when the comical barrage slackens.

And it feels fresh, thanks to improv-like voice work and the general anarchy that includes Marty's assimilation into a herd of indistinguishable zebras, a ridiculous chimpanzee workforce and a hippo hunk (Will.I.Am) vying with Melman for Gloria's affections. Less successful is the subplot involving a tough granny stranded in the jungle with a band of tourists, but even this folds nicely into the overall narrative. And while the quiet depth in the script makes it feel like a true classic, you can't help but wonder where the filmmakers can take the story from here.
| | | |
| --- | --- | --- |
| | themes, violence, innuendo | 16.Nov.08 |