dir-scr Bill Guttentag with Eva Mendes, David Krumholtz, Andre Braugher, Missy Pyle, Jeffrey Dean Morgan, Jay Hernandez, Rob Brown, Monet Mazur, Eric Lively, Katie Cassidy, Robin Paul, Paul Michael Glaser release US Apr.07 tff, UK 19.Sep.08 07/US Mosaic 1h36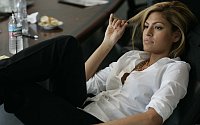 Making history: Mendes


---
TRIBECA FILM FEST
R E V I E W B Y R I C H C L I N E

This straight-faced satire of American television raises important issues and is engaging enough to keep us gripped. But the astute commentary peaks too early, then gives way to a finale that's messy in more ways than one.

TV exec Katy (Mendes) is desperate for a ratings hit, and her team is shocked when she decides to make a Russian roulette game show in which the loser actually dies. The network lawyer (Braugher) and president (Glaser) think she's insane, until they realise they'll all make history. And a lot of money. Eventually six contestants (Morgan, Hernandez, Brown, Mazur, Lively and Cassidy) are selected and profiled, and the publicity machine kicks into high gear, leading up to the big night.

The most astute observations are in the set-up: this is a morally bankrupt medium in which nipples are forbidden but live death is fine. And the truth is that any American broadcaster would televise a prison execution, and the script reminds us that CBS once showed Jack Kervorkian administer a fatal drug dose. This makes the premise startlingly believable, although it can't paper over the plot holes (like what would happen if the first contestant got the bullet).

It also doesn't help that the improvisational cast is rather spotty, as writer-director Guttentag lets the actors get away with rather stiff performances. Each contestant has an involving back-story, with clear reasons to be desperate enough to risk death for a chance at $5 million and worldwide fame, but just one actor makes us believe it. Even though Hernandez isn't the most emotive or colourful contestant, he's the only one who nails his character--a young Latino who's constantly bullied and had his career ruined by a homophobic attack.

Along the way, Guttentag offers some genuinely hilarious touches (such as having The Morning After playing in the background). And the Live! show is hysterically cheesy, winding up the tension to squirm-inducing heights before cutting to an ad break. Even the documentary filmmaker covering the story (Krumholtz) ends up getting involved, seeking validation by TV along with everyone else. And these are extremely important points to make, especially since a show like this isn't really much of a leap.
| | | |
| --- | --- | --- |
| | themes, strong language, violence | 27.Aug.08 |