dir Clint Eastwood
scr Nick Schenk
with Clint Eastwood, Bee Vang, Ahney Her, Christopher Carley, Brian Haley, Brian Howe, Geraldine Hughes, Dreama Walker, John Carroll Lynch, William Hill, Choua Kue, Brooke Chia Thao
release US 12.Dec.08, UK 20.Feb.09
08/US Warner 1h56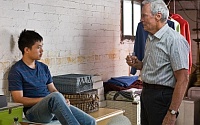 Won't you be my neighbour: Vang and Eastwood (above), Her (below)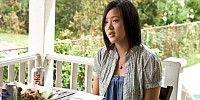 See also:
INTERVIEW WITH
CLINT EASTWOOD
R E V I E W B Y R I C H C L I N E

Elegant direction, insightful writing and bracingly realistic performances combine to not only tell an involving story but also to highlight an important issue in communities all over the world.

Walt (Eastwood) is a grizzled Korea veteran watching in dismay as his Michigan neighbourhood is being taken over by ethnic groups that don't hold his fastidious values. It comes to a head as he comes face-to-face with the Hmong family next door, most notably fearless daughter Sue (Her) and her timid brother Thao (Vang), who was caught trying to steal Walt's prized 1972 Gran Torino as part of a gang initiation. Reluctantly, Walt takes Thao under his wing, hoping to teach him a thing or two.

Eastwood directs and acts with remarkable restraint, skilfully getting far beneath the surface and unafraid to paint a fairly chilling portrait of modern society in which various communities live on top of each other but are deeply at odds. His performance is especially notable for its gruff tenacity and the way he fully inhabits Walt's bitter worldview while also making him deeply sympathetic. Most telling is his use of racist language, which is deeply offensive even though we know he doesn't mean it that way.

This kind of approach to such a touchy issue is bold and important, cutting through the immediate flush of outrage to get to something much deeper: a true sense of human interaction and compassion. And Schenk's script is perfectly matched to Eastwood's economical directing style, quietly establishing the important details and letting the story unfold at its own pace with a clever collection of characters who vary in ethnicity, age, economic status, gender. The whole cast is natural and quietly true-to-life.

As all of these textures and colours swirl around the driving force of Walt's will, the film really gets under our skin. Walt can't fight the fact that our communities are becoming more diverse, and that the only way we are going to survive is to break down some of the barriers we have built. Even more powerfully, the film dares to examine the baggage we carry around, which in Walt's case requires more than confession to his young parish priest (Carley) or banter with his acerbic barber (Lynch). And just when the film feels like it may turn into a revenge thriller, something far more moving takes our breath away.
| | | |
| --- | --- | --- |
| | themes, language, violence | 9.Dec.08 |


Peter Persson, Vienna, Austria: "We can't remember the last time people clapped at the end of a movie, but they did tonight. We really enjoyed the very moving storyline in which Walt (Eastwood) learns to view individuals of a different ethnicity as people worthy of a relationship and support. A question: Why did Eastwood make the film with that white/pale tint? Does that communicate the harshness of life in multi-cultural setting, or the gruffness of Walt? Or was it just our theater's projector?" (17.Jan.09)