dir-scr John Patrick Shanley
with Meryl Streep, Philip Seymour Hoffman, Amy Adams, Viola Davis, Joseph Foster, Lloyd Clay Brown, Michael Roukis, Alice Drummond, Audrie Neenan, Paulie Litt, Susan Blommaert, Bridget Megan Clark
release US 12.Dec.08, UK 6.Feb.09
08/US Miramax 1h44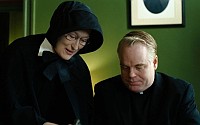 Don't be so sure: Streep and Hoffman



See also:
SHADOWS' INTERVIEW with MERYL STREEP, AMY ADAMS and JOHN PATRICK SHANLEY
R E V I E W B Y R I C H C L I N E

Confident filmmaking, a fiercely clever script and a gifted cast wonderfully bring this set of complex characters to life. And the result is an utterly gripping exploration of moral certitude.

It's 1964, and Sister Aloysius (Streep) runs her Catholic school with an iron fist, believing that the old, disciplined ways are best, and disapproving of the forward-thinking Father Brendan (Hoffman) who (shock!) writes with a ball-point pen, puts sugar in his tea (three lumps no less!), and wants to add Frosty the Snowman to the Christmas pageant. So when Sister James (Adams) comments that he's giving "special attention" to the school's first black student (Foster), Sister Aloysius pounces, going after Father Brendan with burning righteous indignation.

In adapting his award-winning play, Shanley expands the story to provocatively bring out the period and the issues and locations involved in the story, which of course parallel recent years in extremely haunting ways. When someone believes beyond a shadow of a doubt that they're right, basic virtues like compassion, honesty and understanding take a battering.

Fortunately, in Streep's hands, Sister Aloysius never becomes a one-dimensional villain. Streep constantly undermines the sternness with tiny acts of kindness, brief witty glances and even quavering inflection. And her scenes with the remarkable Hoffman, Adams and Davis (the film's real soul) have the snap, crackle and pop of intelligence, religious conviction and raw emotion. Even though much of the time everyone is talking around the real issue at hand, hoping for a quiet, quick "return to simplicity".

Everything in the story centres on the winds of change that are sweeping through American society in the wake of JFK's assassination. Shanley also fills the film with gusts of literal wind, but the dialog and performances are much subtler than that, playing with the conflict between certainty and doubt, the past and the present, male and female, black and white. When the boy's mother asks Sister Aloysius, "Would you hurt my son to get your way?", we see the nun hesitate for a second, and that's all it takes. She isn't in a moral dilemma at all; even without proof, she is utterly sure of her convictions. And whether or not she's right is beside the point.
| | | |
| --- | --- | --- |
| | themes, language | 26.Nov.08 |