dir Mathieu Kassovitz
scr Mathieu Kassovitz, Joseph Simas, Eric Besnard
with Vin Diesel, Michelle Yeoh, Mélanie Thierry, Mark Strong, Gérard Depardieu, Charlotte Rampling, Lambert Wilson, Jerome Le Banner, Joel Kirby, Souleymane Dicko, Radek Bruna, David Belle, Abraham Belaga
release Fr 20.Aug.08,
UK/US 29.Aug.08
08/France 1h33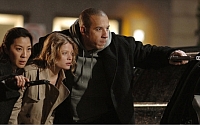 On a mission: Yeoh, Thierry and Diesel



R E V I E W B Y R I C H C L I N E

This meathead version of Children of Men starts intriguingly, with a near-future quest that combines politics, religion and science. But this is a Vin Diesel movie, so mindless action takes over, leaving it vacuous and badly fragmented.

Toorop (Diesel) is a mercenary who takes on a difficult job in order to get a US passport and return home, where he's wanted as a terrorist. The job is to escort young novice Aurora (Thierry) and her minder Sister Rebeka (Yeoh) from their Mongolian convent to Manhattan. Adventures ensue, especially as it becomes clear that Aurora's parents (high priestess Rampling and scientific miracle Wilson) both want to get their hands on her. Toorop rightly trusts no one, but begins to see that Aurora is someone special.

Actually, we know we're in trouble after a bizarre prologue in which Toorop intones, "I learned something that day; too bad it was the day I died." We're immediately plunged into a grey-palette world of grating rap music and tattooed brutes, with all the general lawlessness and decay we expect in a dystopian movie. There's a whiff of intelligent subtext, but we soon realise that it would be a miracle if the film developed a brain.

Kassovitz has distanced himself from the movie after the studio's re-edit, and this hack job is clearly evident in action scenes that are loud and violent (although chopped to a PG-13) but make little logical sense. Some strong, subtle effects and stunt work are lost in this rough editing. And what's left is a tedious stream of Michael Bay-sized set pieces littered with corny clichés (attack drones? blacked-out Range Rovers?). In other words, Kassovitz can't get off so lightly.

Acting-wise, Diesel holds our attention with his beefy presence, even if he can't make the character believable. The women fare better: Thierry, Yeoh and Rampling are all terrific. While both Strong (as Toorop's shifty buddy) and Depardieu (as a hideous Russkie mobster) add some badly needed attitude. But it's all so overwrought and over-serious that it never really engages us, and all of the laughs feel unintentional, especially in the final act, with its goofy mythology and nonsensical plotting.
| | | |
| --- | --- | --- |
| | themes, violence, language | 25.Aug.08 |