dir Baz Luhrmann
scr Stuart Beattie, Baz Luhrmann, Ronald Harwood, Richard Flanagan
with Nicole Kidman, Hugh Jackman, Brandon Walters, David Wenham, David Gulpilil, Bryan Brown, Jack Thompson, Ben Mendelsohn, David Ngoombujarra, Essie Davis, Jacek Koman, Barry Otto
release Aus/US 26.Nov.08,
UK 26.Dec.08
08/Australia Fox 2h45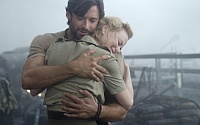 Sex on legs: Jackman and Kidman



See also:
SHADOWS' INTERVIEW WITH HUGH JACKMAN AND BAZ LUHRMANN
R E V I E W B Y R I C H C L I N E

Luhrmann shamelessly indulges in the most sweeping style of filmmaking imaginable, filling the screen with expansive images, action and emotion, plus plenty of cheesy camp. And the result is thoroughly wonderful.

In 1939, Lady Sarah Ashley (Kidman) heads from England to join her husband at their cattle station near Darwin. But when she arrives, she discovers that he's dead and the manager Fletcher (Wenham) is in league with a voracious land baron (Brown). So she sacks Fletcher and hires rough-hewn hunk Drover (Jackman) to help drive the cattle to the port. She also takes under her wing the half-caste boy Nullah (Walters), whose grandfather (Gulpilil) is leader of the local aboriginal community. Meanwhile, the Japanese are preparing an aerial invasion.

While the epic scale and soaring Technicolor camerawork bring to mind Gone With the Wind, it's The Wizard of Oz that Luhrmann constantly references. It's a rather askance parallel, even insistent echoes of Somewhere Over the Rainbow, but it draws out a surprisingly emotional resonance. Meanwhile, the script is a terrific concoction: a powerfully straight-arrow story that never lets up. For a film this long, it's remarkably brisk, and happily doesn't to fall into the usual trap of tagging on a series of endings. This plot stampedes right to the climax.

Speaking of which, Kidman and Jackman have terrific chemistry, especially since Luhrmann photographs them as sex on legs. They're also two rare actors who can convincingly bridge goofy slapstick, wild action and wrenching emotions. And newcomer Walters, who's also the film's narrator, adds depth that goes beyond the strong aboriginal theme. While Brown and Wenham offer solid villains who both have interesting shades of grey.

But of course, the film is a massive love letter to Australia itself, taking in history, music, folklore, spirituality and collective memory. The Japanese attack, just two months after Pearl Harbor, is recreated with astonishing force. And throughout the film Luhrmann crafts the effects to look more like old-style matte paintings than digital trickery. Ultimately, the film is both overambitious and overwrought, but there's never a dull moment. Hugely satisfying on several levels, it's a rare film after which you'll feel like you got your money's worth. And then some.
| | | |
| --- | --- | --- |
| | themes, violence, language | 3.Dec.08 |