R E V I E W B Y R I C H C L I N E
dir-scr Paul Schrader
with Woody Harrelson, Kristin Scott Thomas, Lauren Bacall, Lily Tomlin, Moritz Bleibtreu, Willem Dafoe, Ned Beatty, Mary Beth Hurt, William Hope, Geff Francis, Steven Hartley, Garrick Hagon
release UK 10.Aug.07, US 7.Dec.07
07/US Pathe 1h49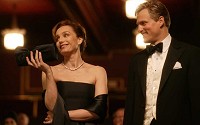 A night at the opera: Scott Thomas and Harrelson



Moody and rather pretentious, this drama at least has a handful of intriguing characters, all extremely well-played, to keep our interest. While Schrader's writing and direction are sleek and insinuating.

Carter Page III (Harrelson) is the scion of a wealthy Southern family. He doesn't need to work, so spends his days walking wealthy women around Washington, DC. His three closest canasta buddies are Lynn (Scott Thomas), Natalie (Bacall) and Abigail (Tomlin), wives of the rich and powerful. But a murder investigation slowly begins to focus on Carter, clearly in an effort to deflect attention from Lynn's senator husband (Dafoe). And soon Carter's secretive boyfriend (Bleibtreu) is caught up in the scandal as well.

Schrader approaches this story with a gliding camera and artful sheen that feel like something from a late-70s melodrama. In some ways it feels almost like American Gigolo 2, as soulless hooker turns into a faded escort. There's enough going on in their conversations, and in their eyes, to keep us intrigued with the murky morality of it all. Clearly these are people who present one face to the public and another to their friends, and neither resembles who they really are.

Harrelson's Capote-like Carter is a fascinating bundle of physical quirks who feels utterly fake ("I'm not naive," he boasts, "I'm superficial"), even though he's the only genuine aristocrat in the story. With the exception of one moment of tenderness, his relationship with Bleibtreu is understated to the point of invisibility, and leaves a gaping hole in the plot. But his banter with his fabulous lady friends is colourful and entertaining. And when the whispering campaigns begin, with suspicions, threats and extortion, it gets truly interesting.

Schrader only cranks up the energy in one brief Hitchcockian sequence. Otherwise, the film inches toward each revelation, never quite resonating with the Washington we know and loathe. There are allusions to human rights abuses and homophobia, but no real grappling with the issues. Even so, it's pretty stirring to see a portrait of the world's power elite as living in a moral quagmire while harking back to a glorious past that was never really there.
| | | |
| --- | --- | --- |
| | themes, language, violence | 8.Jun.07 |