R E V I E W B Y R I C H C L I N E
dir-scr Adrienne Shelly
with Keri Russell, Nathan Fillion, Jeremy Sisto, Cheryl Hines, Adrienne Shelly, Andy Griffith, Eddie Jemison, Lew Temple, Lauri Johnson, Sarah Hunley, Darby Stanchfield, Sophie Ostroy
release US 2.May.07, UK 10.Aug.07
07/US Fox 1h44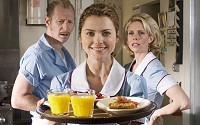 Pie of the day: Temple, Russell and Hines



There's a sharp edge that makes this film much more than a female-empowerment comedy. The late writer-direct-actor Shelly astutely examines mother-daughter issues, keeping us laughing before delivering her emotional gut-punch of a finale.

Jenna (Russell) is the genius baker at Joe's Pie Diner, creating a new recipe every day based on her own life. So when she discovers she's pregnant, the daily special is Bad Baby Pie. Because she certainly doesn't want to have a baby with her self-absorbed jerk of a husband Earl (Sisto). Her fellow waitresses (Hines and Shelly) and old Joe himself (Griffith) are fully supportive of her, even as they have issues of their own. And her new doctor (Fillion) turns out to be a bit too nervously charming for her to resist.

Each character is written and performed with a wonderful depth of wit and resonance; these are recognisably real people who are also hysterically funny on screen. Russell gives Jenna a remarkable balance of hopefulness and resolve; this is a woman who has accepted the fact that she is trapped in a miserable life, even as she keeps trying to find a way out.

This pretty much defines all of the characters in the film, so when they interact with each other in various ways, the sparks are vivid and thoroughly engaging. The chemistry between the actors is fantastic, most notably for Russell and Fillion, who come together with an amusing awkwardness that's actually very sweet. And there's a terrific sense of camaraderie between the strong-willed Russell, the feisty Hines (with echoes of Alice's Flo) and the loveably nerdy Shelly.

Where the film becomes something even richer is in the serious themes that define the plot. Jenna feels no affection for her unborn baby, mainly because she has given up on herself. She has no idea who she is, even though everyone around can see her clearly. Well, except for Earl, her lout of a husband who's perhaps too complex to just give up on. And even if it gets overly sentimental in the end, the film is packed with provocative, challenging twists and turns that give the humour a solid foundation.
| | | |
| --- | --- | --- |
| | themes, language, sexuality, violence | 16.Jun.07 |