R E V I E W B Y R I C H C L I N E
dir Gavin Hood
scr Kelley Sane
with Jake Gyllenhaal, Reese Witherspoon, Omar Metwally, Meryl Streep, Peter Sarsgaard, Alan Arkin, Zineb Oukach, Moa Khouas, Igal Naor, JK Simmons, Aramis Knight, Rosie Malek-Yonan
release UK/US 19.Oct.07
07/US New Line 2h00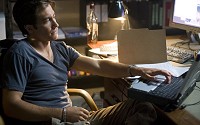 Struggling with his conscience: Gyllenhaal




With a sure grip on his material, South African director Hood (Tsotsi) turns what could have been yet another Hollywood potboiler into an edgy dramatic thriller with a lingering resonance.

Anwar (Metwally) is an Egyptian-born scientist who lives in Chicago with his pregnant wife Isabella (Witherspoon) and their young son (Knight). On the way home from a Cape Town conference, he's grabbed by US agents and, on the orders of a senator (Streep), ferreted to North Africa, where he's the centre of an investigation into a local suicide bomb. Douglas (Gyllenhaal) is the rookie CIA operative there, observing the questioning and torture administered by the local security chief (Naor). Meanwhile, Isabella calls in a favour from a friend (Sarsgaard) who works in Washington and can get some answers.

Despite a fairly simplistic script, Hood develops an intriguing tone, opening with a bewildering number of characters and subplots, including a pivotal young couple (Oukach and Khouas) dealing with love, extremism and emotive family issues. But as the film progresses, each character emerges in strong relief as part of a single narrative. The details of their lives and the events they face, however contrived they may seem, come straight from the news headlines, as do the shadowy workings behind the scenes.

Gyllenhaal delivers an eerily visceral performance, showing his inner shakiness through an almost punch-drunk physicality. He's the centre of the whole film, with his constantly shifting morality and willingness to actually see what's going on while everyone else is more concerned with themselves. In smaller roles, Witherspoon and Streep have their moments to shine as very different women who are both frighteningly steely.

From the breathtakingly nonchalant moment Anwar is grabbed, his ordeal is utterly horrific (and bravely played by Metwally). It's an acknowledged fact that the American government is spending tax dollars to torture people who have never been charged with any crime. And the film dares to ask whether this is worth the security information it may gain. Whatever anyone believes, it's a messy situation. And even if this film is a little too busy and perhaps flippant, the important thing is that Hood addresses the situation with raw honesty and gritty emotion.
| | | |
| --- | --- | --- |
| | themes, violence, language | 20.Sep.07 |